Main content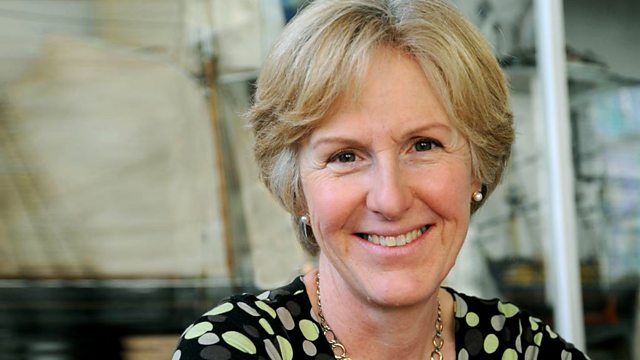 National Orchestra of France - Berlioz, Richard Strauss and Prokofiev
Catriona Young presents Anna Netrebko singing Strauss's Four Last Songs with the National Orchestra of France and Daniele Gatti.
Anna Netrebko sings Strauss's 4 Last Songs with the National Orchestra of France and Daniele Gatti. Catriona Young presents.
12:31 AM
Berlioz, Hector (1803-1869)
Overture to 'Béatrice et Bénedict', Op.27
Orchestre National de France, Daniele Gatti (Conductor)
12:40 AM
Strauss, Richard (1864-1949)
Four Last Songs, AV.150 for voice and orchestra
Anna Netrebko (Soprano), Orchestre National de France, Daniele Gatti (Conductor)
1:02 AM
Prokofiev, Sergei (1891-1953)
Excerpts from 'Romeo and Juliet' suites no.1 Op.64a and no.2 Op.64b
Orchestre National de France, Daniele Gatti (Conductor)
1:50 AM
Schumann, Robert (1810-1856)
Three Romances (Op.94)
Hyong-Sup Kim (Oboe), Ja-Eun Ku (Piano)
2:02 AM
Rachmaninov, Sergei (1873-1943)
Piano Concerto No.4 (Op.40) in G minor
Jean-Yves Thibaudet (Piano), San Francisco Symphony Orchestra, Michael Tilson Thomas (Conductor)
2:31 AM
Zemlinsky, Alexander von (1871-1942)
Die Seejungfrau (The Little mermaid) - Fantasy for orchestra after Andersen (1902/3)
Royal Concertgebouw Orchestra, Riccardo Chailly (Conductor)
3:13 AM
Krogulski, Józef (1815-1842)
Piano Octet in D minor, Op.6
Nelson Goerner (Piano), Jan Krzeszowiec (Flute), Radoslaw Soroka (Clarinet), Lena Neudauer (Violin), Erzhan Kulibaev (Violin), Artur Rozmyslowicz (Viola), Marcin Zdunik (Cello), Slawomir Rozlach (Double Bass)
3:38 AM
Matteis, Nicola (died c.1713)
L'Amore (Love)
Elizabeth Wallfisch (Baroque Violin), Linda Kent (Chamber Organ)
3:42 AM
Sammartini, Giuseppe (1695-1750)
Sinfonia in F major
Europa Galante, Fabio Biondi (Director)
3:50 AM
Handel, George Frideric (1685-1789)
Cara sposa - aria from Rinaldo
Delphine Galou (Contralto), Les Ambassadeurs, Alexis Kossenko (Director)
3:55 AM
Schäfer, Dirk (1873-1931)
Adagio patetico - 3rd movement from Piano Quintet, Op.5 (1901)
Jacob Bogaart (Piano), Orpheus String Quartet
4:04 AM
Debussy, Claude (1862-1918)
Jardins sous la pluie (No.3 from Estampes)
Leif Ove Andsnes (Piano)
4:09 AM
Alfven, Hugo (1872-1960)
Suite from "King Gustav II Adolf" (Op.49)
Swedish Radio Symphony Orchestra, Niklas Willen (Conductor)
4:24 AM
Mozart, Wolfgang Amadeus (1756-1791)
Kirchen-Sonate No.15 in C major for 2 violins, bass and solo organ (K.328)
Netherlands Radio Philharmonic Orchestra, Kent Nagano (Conductor)
4:31 AM
Svendsen, Johan (1840-1911)
Romeo and Juliet (Op.18)
Norwegian Radio Orchestra, John Storgards (Conductor)
4:45 AM
Vaughan Williams, Ralph (1872-1958)
3 Shakespeare songs for chorus
Camerata Chamber Choir, Michael Bojesen (Conductor)
4:51 AM
Britten, Benjamin (1913-1976)
Courtly Dances from Gloriana op 53
Polish Radio Symphony Orchestra, Lukasz Borowicz (Conductor)
5:02 AM
Mozart, Wolfgang Amadeus (1756-1791)
Sonata in C minor K.457 for piano
Kristian Bezuidenhout (Fortepiano)
5:19 AM
Reicha, Antoine (1770-1836)
Symphony 'a grande orchestre' in E flat major (Op.41)
Cappella Coloniensis, Hans-Martin Linde (Director)
5:45 AM
Chopin, Fryderyk (1810-1849)
Fantaisie-impromptu in C sharp minor Op.66 for piano
Anastasia Vorotnaya (Piano)
5:50 AM
Bach, Johann Sebastian (1685-1750)
Cantata: "Widerstehe doch der Sünde" (BWV.54)
Jadwiga Rappe (Alto), Concerto Avenna, Andrzej Mysinski (Conductor)
6:02 AM
Suk, Josef (1874-1935)
Fantastic scherzo for orchestra (Op.25)
BBC National Orchestra of Wales, Richard Hickox (Conductor)
6:16 AM
Ovalle, Jayme (1894-1955), Tiefenbach, Peter (Arranger), Bandeira, Manuel (Author)
Azulão arr. Peter Tiefenback for soprano, piano and cellos
Isabel Bayrakdarian (Soprano), James Parker (Piano), Bryan Epperson (Cello), Maurizio Baccante (Cello), Roman Borys (Cello), Simon Fryer (Cello), David Hetherington (Cello), Roberta Jansen (Cello), Paul Widner (Cello), Thomas Wiebe (Cello), Winona Zelenka (Cello)
6:19 AM
Mendelssohn, Felix (1809-1847)
String Symphony No.10 in B minor
Risor Festival Strings.