Main content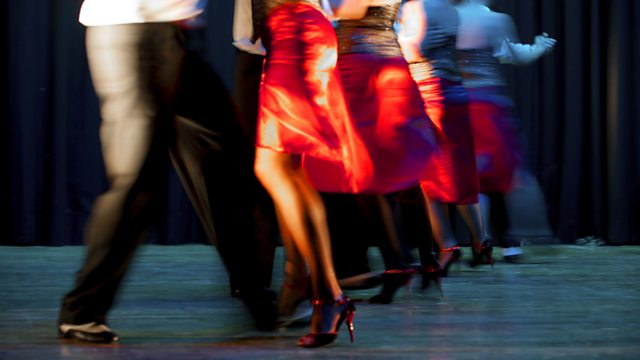 Marco's sister is less than impressed by Terri, Jill is wavering and Chippy has tussled with a shark - apparently. From July 2014.
Not being the outdoors types, the women tackle their own more unorthodox challenges involving a bra, a man and some special equipment...
After treatment for Ovarian and breast cancer Chippy, is mad, Jill is sad and Terri is definitely dangerous to know! The road back after cancer treatment can be tricky and full of obstacles.
In 'Bad Salsa', two middle aged women and their younger friend seek to regain their zest for life and love by learning to dance at Bad Salsa, the club where everyone knows your name but no-one knows your prognosis!
Depictions of people with cancer on TV and radio too often follow a standard format; there is the diagnosis, the depression the chemo, then the false recovery followed by the tragic death.
Bad Salsa tries to paint a picture at once more hopeful and more in line with survival rates which have improved immensely over the past 20 years.
For many, 'living with cancer' is now their day to day challenge. The characters in the series have finished their treatment and are in the process of finding their way back to normal life or at least finding a "new normal." As in the real world, the challenges of everyday life go on for our characters; like us they have boring marriages, distracting crushes, troublesome children, difficult workmates and infuriating parents, but unlike us their brush with mortality has given them a new perspective.
The fun and excitement of the series is in watching them decide to preserve the pre-cancer status quo or in Terri's words, to say "sod it all" and "go for it!"
Follow the women as they embrace the world of salsa whilst they adjust to life after cancer.
Credits
| Role | Contributor |
| --- | --- |
| Chippy | Sharon Rooney |
| Jill | Natasha Little |
| Terri | Camille Coduri |
| Marco | Derek Elroy |
| Gordon | Andrew Obeney |
| Elaine | Ayesha Antoine |
| Georgie | Emily Chase |
| Joel | Joe Johnsey |
| Writer | Kay Stonham |
| Producer | Alison Vernon-Smith |