Main content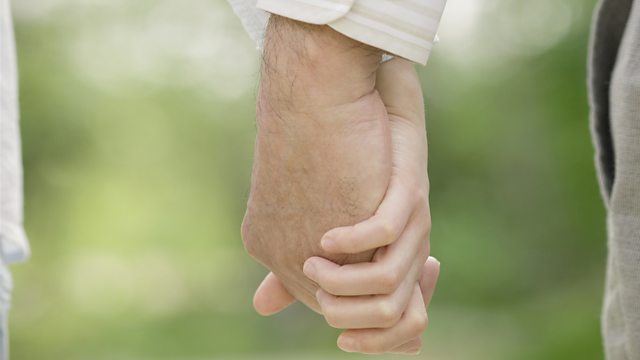 Falling in love with a much older person
Sylvia talks about falling in love with a 93-year-old man. Plus the Cologne assaults and the feminist response, artist Anna Zinkeisen, and young women and stereotyped job roles.
Much of the public reaction to the engagement of Jerry Hall and Rupert Murdoch has been rather cynical, with frequent references to Murdoch's billions and their 25 year age gap. But is the idea of a woman falling in love with an elderly man so unthinkable? Jenni speaks to Sylvia, who got together with her partner when he was 93.
Following reports of hundreds of attacks on women during the New Year celebrations in the German city of Cologne, we look at how feminists have responded. The attackers were described as of mainly North African or Arabic origin and the row over German immigration policy had since intensified; we'll also be asking how the issue of women's rights is being used in this debate. Joan Smith, Sarah El Rashid, Dr Andrea Den Boer and Imke Henkel.
The last in our series on fashion over six centuries told through the pictures in the National Portrait Gallery with Aileen Ribeiro, a Professor of the History of Art at the Courtauld Institute who specialises in the history of costume. She's the author of 'A Portrait of Fashion.' We move forward to the war years of the 1940's to look at a picture of the artist, Anna Zinkeisen
A recent report by the Young Women's Trust said that a generation of young women under 30 are more likely than older women to think that traditional male roles are beyond their reach and that mothers are irresponsible to work. Are these young women turning against feminism and becoming more socially conservative in their views? Dr Carole Easton, Chief Executive of the Young Women's Trust, & Belinda Brown writer for the website The Conservative Woman discuss.
Presenter: Jenni Murray
Producer: Kirsty Starkey.
Last on
Sylvia tells the story of how she and Bernard met and fell in love
Chapters
Sexual assault by migrants

How feminists are responding to the attacks on women in Germany and Sweden

Duration: 17:45

Falling in love with a much older person

Sylvia, who got together with her partner when he was 93, tells her story

Duration: 07:34

A Portrait of Fashion - Anna Zinkeisen

Aileen Ribeiro talks about 1940s artist Anna Zinkeisen

Duration: 04:52

Young Women's Trust Report

Carole Easton and Belinda Brown discuss why young women think mothers shouldn't work

Duration: 08:02

Credits

| Role | Contributor |
| --- | --- |
| Presenter | Jenni Murray |
| Producer | Kirsty Starkey |
| Interviewed Guest | Joan Smith |
| Interviewed Guest | Sarah El Rashid |
| Interviewed Guest | Andrea Den Boer |
| Interviewed Guest | Imke Henkel |
| Interviewed Guest | Sylvia |
| Interviewed Guest | Aileen Ribeiro |
| Interviewed Guest | Carole Easton |
| Interviewed Guest | Belinda Brown |

Broadcast
Podcast
Women's voices and women's lives - topical conversations to inform, challenge and inspire.