Main content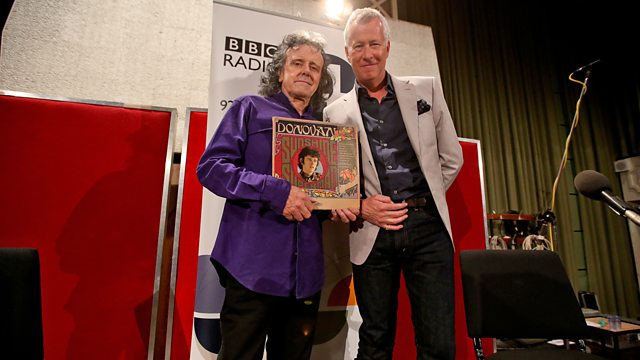 Donovan (the A-Side)
Donovan talks and plays his way back to 1966 and his third album Sunshine Superman.
John Wilson continues with the fifth series of Mastertapes, the programme in which he talks to leading performers and songwriters about the album that made them or changed them. Recorded in front of a live audience at the BBC's iconic Maida Vale Studios.
Programme 7. DONOVAN talks to John Wilson about 'Sunshine Superman', which according to the Rock and Roll Hall of Fame "ignited the psychedelic revolution virtually single-handedly" when it was released in the summer of 1966.
'Sunshine Superman' is Donovan's breakthrough third album and a radical departure from his previous work. Born in Glasgow, Donovan Phillips Leitch grew up listening to his father reading him poetry and his family singing Scots Irish folk music. He began playing guitar when he was 14 and was 18 when he had his first hit, 'Catch the Wind'. A year later he began work on the album that first introduced meditation, Celtic mythology and Flower Power to the world.
Creating a unique fusion of classical, jazz, folk, pop, Celtic, Latin and Indian music, the album veered from the LA-influenced 'The Trip' and 'The Fat Angel' (written for Mama Cass) to the medieval tinged 'Guinevere' and 'Legend of a Girl Child Linda' (written for Brian Jones' ex-girlfriend Linda Lawrence who became Donovan's life-long muse and wife). Linda is also the Sunshine Super-Girl of the song 'Sunshine Superman' which topped the charts on both sides of the Atlantic and featured a young Jimmy Page on lead guitar.
The B-side of the programme, where it's the turn of the audience to ask the questions, can be heard on Tuesday 12th January at 3.30pm.
Producer: Clare Walker.