Main content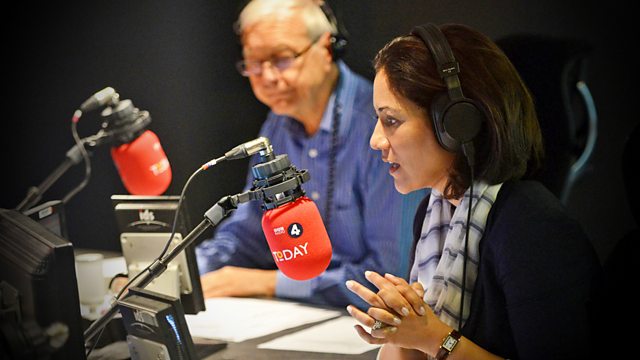 11/01/2016
Morning news and current affairs. Including Sports Desk, Weather and Thought for the Day.
Clips

Today's running order
0650
Panorama broadcasts its undercover expose into Medway secure training centre in Kent tonight. Seven members of staff at the facility run by security group G4S have been suspended amid allegations of abuse and mistreatment of youngsters. Mark Easton is the BBC's Home editor and Penelope Gibbs is a former magistrate who set up Transform Justice and chairs a group of organisations which campaign for youth justice.
0655
The British authorities are now applying for his extradition from Ghana of Arthur Simpson-Kent, the partner of the Eastenders actress Sian Blake, so he can be brought back to the UK to be questioned about her death and the death of their two children. The BBC's Africa correspondent Alastair Leithead has been on the trail of the 48-year-old along the Atlantic coast of Ghana.
0710
Over 100 Senior Anglicans have signed an open letter to the Archbishops of Canterbury and York, calling on the Church of England to repent of its treatment of LGBT Christians as 'second class citizens' over issues of sexuality. Speaking on the programme is Justin Welby, Archbishop of Canterbury.
0715
In just over 24 hours junior doctors are planning to go on strike - the first of such strike in the NHS for forty years. Rob Webster is chief executive of the NHS Confederation.
0730
A facility for 1500 migrants will open in the so-called "jungle" camp in Calais this morning. Jean-Marc Puissesseau is CEO of the Port of Calais and Vickie Hawkins is executive director of MSF - she returned from Dunkirk camp last week.
0740
The Big Short is a film about four individuals - played by Brad Pitt, Christian Bale, Ryan Gosling and Steve Carrell - who predicted the credit and housing bubble collapse of the mid 2000s and decided to take on the banks to expose their greed and lack of foresight. Speaking live in the studio is Michael Lewis, the international bestselling author of Liar's Poker, Moneyball and The Big Short.
0750
Later this week the World Anti-Doping Agency is due to publish the second part of its report into doping. Ed Warner is chairman of UK Athletics.
0810
The election of Jeremy Corbyn as Labour leader would - we were promised - see the birth of a new kind of politics. However, in recent days and weeks his party has been absorbed by splits, sackings and resignations - some very old fashioned politics. Speaking live in the studio is Labour leader Jeremy Corbyn.
0830
The Syrian town of Madaya is being given some relief today - aid due to arrive there for the first time since October. Lyse Doucet is the BBC's chief international correspondent.
0835
The torrential rain may have stopped but the recovery work will go on for a very long time in northern England. Experts say the events will lead to different approach to flooding. Our North of England correspondent Danny Savage was in Cumbria on the night it all started.
0840
In her new book Dark Matter and the Dinosaurs, Professor Lisa Randall combines a sweeping evaluation of what we already know about the physics of the Universe with a ground-breaking new theory – that dark matter is ultimately responsible for the extinction of the dinosaurs. Speaking live on the programme is Professor Lisa Randall, theoretical physicist from Harvard University.
0850
True to his reputation as a film geek, Quentin Tarantino filmed The Hateful Eight in an obscure format - 70 mm Panavision - last used decades ago in films such as Ben Hur. As well as giving audiences an ultra-wide viewing screen it has meant a dusting-off of old skills for the projectionists. Michael Mannix is a projectionist in central London and Paul Coletti went to meet him.
0855
Around 100 of the UK's worst so-called "sink estates" could be bulldozed to make way for better homes as part of a blitz on poverty unveiled by David Cameron in a speech later this morning. Hilary Cottam set up Participle, a group that worked on schemes with councils around the UK and Baroness Philippa Stroud is chief executive of think tank the Centre for Social Justice.
All subject to change.