Main content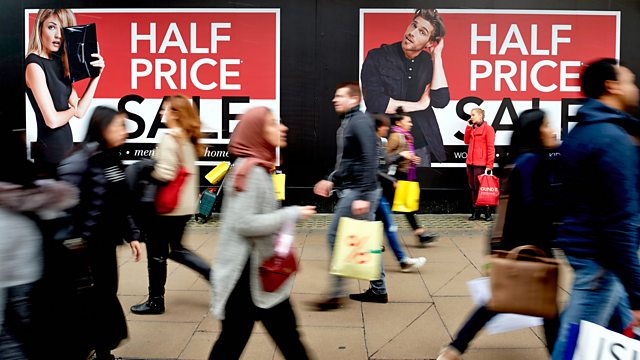 High street christmas results, Child maintenance service, Wearable tech
Consumer affairs with Winifred Robinson, including an investigation into the Child Maintenance Service, which has run up arrears of £35 million in just two years.
Marks and Spencer posts results today that will tell us how their shops performed over the festive period. It follows announcements from John Lewis, Next and other big retailers earlier this week. We examine what they're getting right and wrong, and try to build a fictional 'perfect' department store, with all the best bits of the high street in one place.
The Child Maintenance Service, set up in 2012, has now allowed more than 35 million pounds of arrears to accrue. The government said that the CMS would find solutions to the problems experienced by the old Child Support Agency. But one listener says that while CMS staff are friendly, they seem "shackled by their IT system" and are unable to help with his two cases. We ask how well the CMS is performing and compare it with similar systems abroad.
Sales of wearables - things like wristbands and smart watches - are on the up. But other than technology enthusiasts, who is buying them? Lots of smart watches ended up in the November Black Friday sales, suggesting retailers were desperate to get rid of them. Will wearable technology ever achieve the wide popularity that analysts predicted a year ago, or will it only ever appeal to so-called 'early adopters'?
Producer: Alex Burton
Presenter: Winifred Robinson.
Last on
Chapters
Child Maintenance

CMS has arrears of £35m, despite govt saying things would be better after the revamp

Duration: 08:21

Retail Results: Next

Following Christmas retail results, what do customers like about Next?

Duration: 01:43

Just Eat

We look at online takeaway company Just Eat, one of the UK's biggest tech Unicorns

Duration: 06:35

Gumtree

Gumtree is rebranding its business, its new General Manager is Morton Heung

Duration: 05:10

Retail Results: Marks and Spencer

Food writer Simon Parkes looks at what's going right in Marks & Spencer's food halls

Duration: 02:30

Pre Payment Meters

What can energy firms do to make it easier for people with pre-payment meters to switch?

Duration: 04:10

Wearable Tech

Sales of wearables are on the up, but why are most of us still not interested in buying?

Duration: 04:05

Retail Results: John Lewis

Sophie McCarthy, retail analyst looks at how John Lewis have fared over Christmas

Duration: 04:53

Broadcast