Main content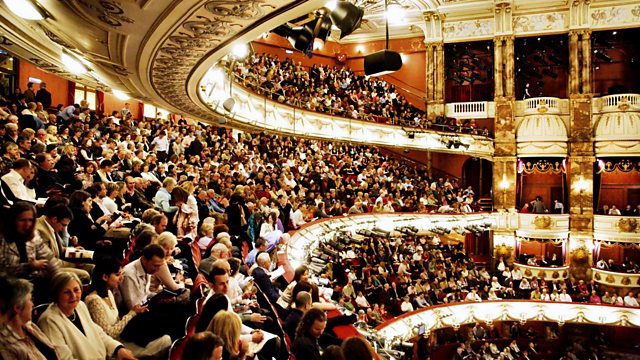 Handel's Alcina
Handel's Alcina, recorded at the Aix Festival in Provence with soprano Patricia Petibon as the doomed magician and countertenor Philippe Jaroussky as her love interest Ruggiero.
Handel's Alcina, starring the soprano Patricia Petibon as the doomed magician and the countertenor Philippe Jaroussky as her love interest Ruggiero, in this tale of magic and seduction, based on Ludovico Ariosto's Orlando Furioso. Andrea Marcon conducts the Freiburg Baroque Orchestra and MusicAeterna, in this production by Katie Mitchell, recorded at last summer's Aix Festival, in Provence, France.
Presented by Jonathan Swain.
Alcina ..... Patricia Petibon (soprano)
Ruggiero ..... Philippe Jaroussky (countertenor)
Morgana ..... Anna Prohaska (soprano)
Bradamante ..... Katarina Bradi (mezzo-soprano)
Oronte ..... Anthony Gregory (tenor)
Melisso ..... Krzysztof Baczyk (bass)
Oberto ..... Elias Mädler (boy soprano)
MusicAeterna
Freiburg Baroque Orchestra
Andrea Marcon.
Synopsis
Act I
With no news from her fiancé Ruggiero, the valiant Bradamante has decided, in the guise of her own brother Ricciardo, to leave in search of him, accompanied by Ruggiero's former tutor Melisso. The two land on the enchanted island of the magician Alcina where they are welcomed by Alcina's sister, Morgana, who immediately falls under the spell of the imposter Ricciardo. Ruggiero appears next with Alcina, bewitched by her charms. The young Oberto then enters: he is in search of his father, who has also fallen under the spell of the magician. Blinded by Alcina's love, Ruggiero refuses to recognize his fiancée under the clothes of Ricciardo, ignoring Melisso's warnings. Jealous of the imposter Ricciardo, Oronte, the would-be suitor of Morgana, makes Ruggiero believe that Alcina has fallen for Ricciardo, which triggers the ire of the young man. He then suggests to his mistress that she pushes away this rival by saving for him the same fate as the other men detained here: he asks her to transform him into a beast or a plant! Morgana hastens to warn Ricciardo who, in light of the situation, sees no other choice but to feign love for the young woman.
Act II
Thanks to a magic key, Melisso manages to bring Ruggiero back to reality. But when Bradamante appears, Ruggiero thinks it is a false apparition created by Alcina, and he rebuffs his fiancée. Just as Alcina is about to transform Ricciardo into a wild beast, she is stopped in mid-action by Morgana then by Ruggiero. Then, Ruggiero pretends to want to go hunting. Alcina authorizes him to leave. She promises Oberto that he will see his father again soon. Oronte then comes to announce the escape of Ruggiero and Ricciardo. Alcina collapses.
Intermission
Now that he has revealed Ricciardo's treason, Oronte thinks he can win back Morgana's love. As for Alcina, betrayed, she invokes infernal powers to take her vengeance, but they no longer respond to her call.
Act III
Repentant, Morgana draws close to Oronte. Alcina, desperate, tries to keep Ruggiero from escaping, but he proves determined to leave her. Bradamante, Ruggiero, and Melisso agree to reduce Alcina's palace to rubble and return the magician's former lovers to their human form. In the depths of despair, Alcina orders Oberto to kill a lion sleeping at his feet. The young man however does not let himself be taken for a fool, recognizing that the animal is in fact his own transformed father. When Bradamante shatters the spells, Alcina and Morgana lose their power, while the animals and plants, including Oberto's father, take back their human form.
- With thanks to Aix-en-Provence Festival