Main content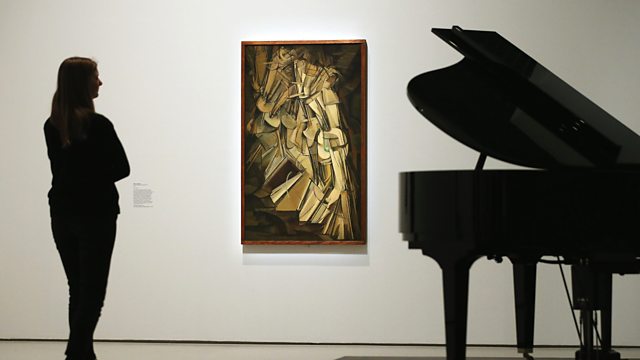 Artist Descending a Staircase
A radio production of Tom Stoppard's comic tragedy about the meaning and purpose of life and art, starring Derek Jacobi and Ian McDiarmid.
Tom Stoppard's Artist Descending a Staircase is both very much written for, and a tribute to, the medium of radio - the medium for which Tom Stoppard first started writing drama. Originally written for radio in 1972, this will be the first new production to be heard on the airwaves for 43 years.
Taking its title from Duchamp's painting Nude Descending a Staircase No 2, Tom Stoppard's 1972 radio play is both a funny and moving exploration of the meaning and purpose of art and the constantly shifting uncertainties of so-called "reality". It is also a tragic love story.
It begins in classic murder-mystery mode. Donner, an elderly artist, lies dead at the bottom of the staircase. His last moments of life - ambiguous fragments of sounds and words - have been captured by the tape recorder, which his housemate Beauchamp uses to make ''tonal art''. But the meaning of these aural clues (which are replayed and re-examined nearly as assiduously as the tape in Coppola's film The Conversation), depends entirely on the radio listener's interpretation of them. Beauchamp and the third artist, Martello, assume - quite understandably - that the recorded clues can only mean that one or other of them is a murderer. But Stoppard aficionados will know that reality is never quite what it seems, and that there is a characteristic coup de théâtre (or coup de radio) awaiting them in the last scene of this beguiling drama.
Martello (older) ..... Geoffrey Whitehead
Beauchamp (older) ..... Derek Jacobi
Donner (older) ..... Ian McDiarmid
Sophie ..... Pippa Nixon
Martello ..... Joshua McGuire
Beauchamp ..... Blake Ritson
Donner ..... Hugh Skinner
Sound Design and Original Music: David Chilton
Writer: Tom Stoppard
Director: Gordon House
A Goldhawk Essential production for BBC Radio 3
First broadcast January 2016.
Credits
| Role | Contributor |
| --- | --- |
| Writer | Tom Stoppard |
| Martello (older) | Geoffrey Whitehead |
| Beauchamp (older) | Derek Jacobi |
| Donner (older) | Ian McDiarmid |
| Sophie | Pippa Nixon |
| Martello | Joshua McGuire |
| Beauchamp | Blake Ritson |
| Donner | Hugh Skinner |
| Director | Gordon House |
Binaural sound: doing the best for Beckett