Main content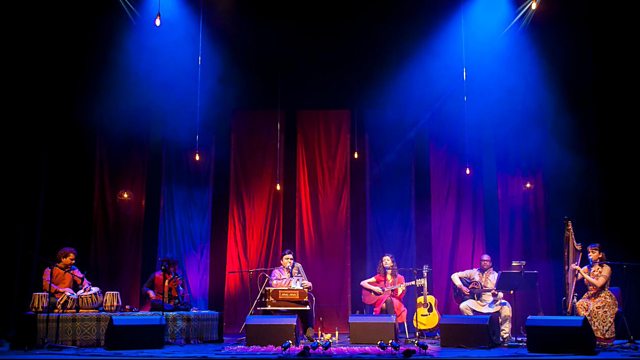 From Mumbai to Machynlleth
Poet and musician Gwyneth Glyn and Ghazal singer Tauseef Akhtar introduce a project bringing together poetry and song from the palaces of India and the fields of Wales.
Ghazal, the love song of Indian Classical music, has its roots in 7th century Arabic poetry. It carried to the Medieval courts of Persia and later to the palaces of the Mughal Emperors of India, was adopted by Sufi mystics along the way, and came to be seen as the highest form of expression of love, for subjects both divine and earthly.
In its latest incarnation, Ghazal has met and been enmeshed with a seemingly alien tradition - the anonymous 'hen benillion' or old verses of rural Wales. While the poets of Ghazal used only to be heard by Indian high society, the Welsh poems, some of which also date back to Medieval times, are nuggets of wisdom handed down by ordinary men and women. But both deal in themes of longing and impossible love. The project 'Ghazalaw', a collaboration between Indian and Welsh musicians, searches for affinities between these centuries-old poetic and musical forms, connects the languages of Urdu and Welsh (which both have their roots in Sanskrit), and attempts to bring communities together. Ghazal still holds to the tenets of Sufism, calling for acceptance, tolerance, and forgiveness - the call of the hour, as the singer and composer Tauseef Akhtar points out: the message is love.
Last on
Broadcasts

Featured in...
Unexpected stories from across the globe, from surfers in Gaza to Northern Soul in Tokyo.