Main content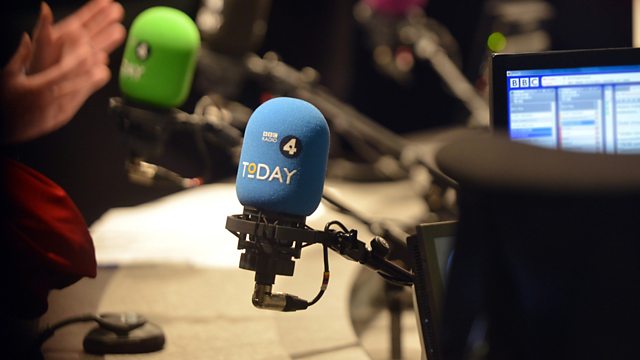 05/01/2016
Morning news and current affairs. Including Sports Desk, Weather and Thought for the Day.
Last on
Clips

Today's running order
0650
The diplomatic row between Saudi Arabia and Iran over the execution of a Shia Muslim cleric has deepened, with the Saudis cutting trade and air links. Speaking on the programme is Sama Hasan, from BBC Monitoring's Middle East team at Caversham.
0655
Several thousand bright pink bottles of what appears to be detergent have washed up on the Cornish shore of Poldhu. Justin Whitehouse is National Trust lead ranger for South West Cornwall.
0710
The man fronting Islamic State group's latest video has been identified - he is thought to be British man Siddhartha Dhar. The five men killed in the video had been living in Raqqa. Our correspondent Mike Thomson has been speaking to people there who are members of Al-Sharqia24 - a group opposed to Islamic State. 
0715
US President Barack Obama is to widen background checks on buyers of firearms, in a series of measures to address gun violence. We have been speaking to Jon Sopel, the BBC's North America editor, and Richard Feldman, president of the Independent Firearm Owners Association and former NRA executive.
0720
The Met Office expected to confirm this morning that December was the warmest since records began. Professor Myles Allan is head of Oxford University's Environmental Change Institute.
0730
Talks could resume as early as today in the long-running dispute over pay and working hours for junior doctors in England. Speaking on the programme is Adam Brimelow, the BBC's Health correspondent, and chair of the British Medical Association Dr Mark Porter.
0740
Emma Rice will take up the position of artistic director of the Shakespeare's Globe theatre today, in the year that British theatre celebrates the 400th anniversary of Shakespeare's death. We speak live to Ms Rice.
0750
This is the second in our series this week speaking to the main candidates running for London Mayor. Zac Goldsmith is the Conservative candidate for London Mayor and the MP for Richmond Park and North Kingston.
0810
The main suspect in the latest propaganda video by so-called Islamic State is thought to be British man Siddhartha Dhar, the BBC understands. Speaking on the programme is Robb Leach, a documentary maker who knows Siddhartha Dhar, Frank Gardner, the BBC's Security correspondent, and Sir Peter Fahy, former chief constable of Greater Manchester Police.
0820
Jeremy Corbyn is reshuffling his front bench team. It is expected that some or all of the new shadow cabinet will be announced today, but it is understood that no final decisions have yet been taken. Laura Kuenssberg is the BBC's political editor.
0825
2016 is a particularly anniversary-filled year: it's the 400th anniversary of the death of William Shakespeare; the centenary of the Somme Offensive and 50 years since England won the World Cup - but why do we commemorate these dates? Anna Eavis is curatorial director at English Heritage and Suzannah Lipscomb is head of History at the New College of the Humanities.
0830
Monday's fall in global markets emanated from China - but traders were also wary over the potential chaos for oil that could be caused if the Iran-Saudi row turned hot. Karishma Vaswani is our Asia business correspondent and Ian Bremmer, president of Eurasia Group, whose 2016 risk report came out on Monday.
0840
Talks could resume as early as today in the long-running dispute over pay and working hours for junior doctors in England. Speaking on the programme is Jeremy Hunt, the Health Secretary.
0845
Soon after our report on Channel 4's new subtitled foreign language series Walter Presents, Lord Blunkett called in to tell us that the problem with our love of all things subtitled is that the blind can't enjoy them because they usually don't come with any audio description. He spoke to our reporter Zoe Conway.
0850
Is the Shia-Sunni conflict – of which the tension between Saudi Arabia and Iran is a part – turning into a new 30 Year War? Speaking on the programme is Sajjad Rizvi, director of the Institute of Arab and Islamic Studies at Oxford University and Mary Kaldor, professor of Global Governance at the London School of Economics.
All subject to change.
Broadcast