Main content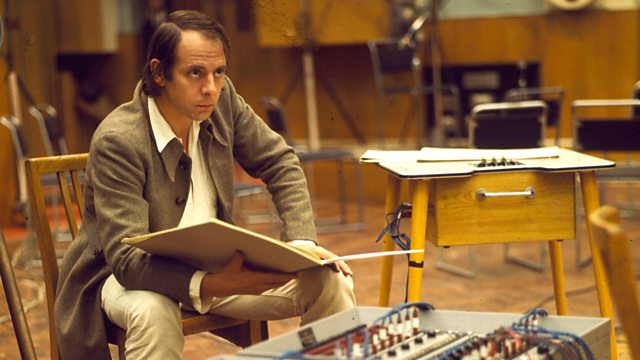 The Making of a Revolution
Donald Macleod and Robert Worby on Stockhausen's worldwide fame by the end of the 1960s, as he toured the world with his own ensemble and visited a variety of unusual locations.
New Year New Music
By the end of the 1960s Stockhausen is seeking new musical directions to express a higher spiritual awareness.
Stockhausen's formative experiences growing up in Nazi Germany show up in his later music. His preoccupation with flight, mechanical mechanisms and the cause and effect of different sounds can all be traced back to his earliest childhood memories. Born in 1928 into a Catholic family, his father, Simon, was a primary school teacher and his mother, Gertrud came from a wealthy farming family. The family lived in some poverty, but his mother had a musical leaning, playing the piano and singing, while his father enjoyed amateur dramatics. Family life was disrupted when his mother needed to be hospitalised for the treatment of her depression. Thereafter family life for Stockhausen was unsettled. His father went to the front as an officer in 1943 and was presumed dead at the end of the war. In 1941, it's thought that Stockhausen's mother had been a victim of Hitler's "euthanasia policy". Now an orphan, in a devastated, war torn country, a 16 year old Stockhausen dedicated himself to surviving and studying, eventually gaining a place at the music school in Cologne. It was to be the platform on which his career as a composer was launched.
By the end of the sixties Stockhausen was enjoying considerable world-wide fame. He spent much of his time touring the world performing with his own Ensemble, visiting a variety of unusual locations, including a set of caves in Lebanon. Donald Macleod is joined once again by composer, writer and broadcaster Robert Worby.
"Am Himmel wandre ich..." (excerpt)
Helga Hamm, mezzo soprano
Karl O Barkey, tenor
Mixtur (excerpt)
Electronics (sine-wave Generators) David Johnson, Harald Bojé, Johannes G. Fritsch, Rolf Gehlhaar
Hudba Dneska Orchestra
Ladislav Kupovic, conductor
Karlheinz Stockhausen, sound direction
Mantra (excerpt)
Pestova Meyer Piano Duo
Jan Panis, Electronics
Stimmung (excerpt)
The Theatre of Voices
Paul Hillier, director.