Main content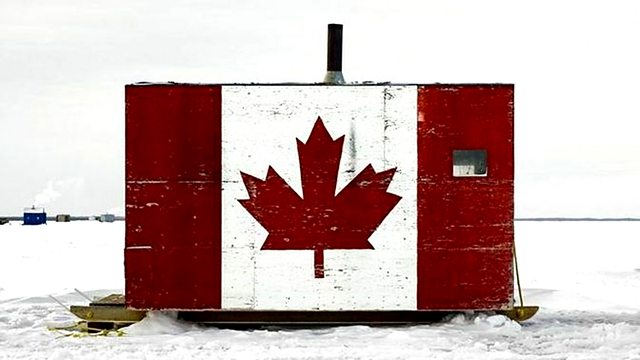 Being Cold
The Forum at the Spur Festival in Canada: Being Cold. With Inuit activist Sheila Watt-Cloutier, Arctic spatial ecologist David Atkinson and 'Ice Huts' photographer Richard Johnson.
Does the experience of coping with bitter cold affect the way people think and feel? And what happens to culture and identity when climate begins to change? To explore these questions the Forum this week comes from Canada, one of the world's most northern countries, with some 40 % of it in the Arctic. Joining Bridget Kendall are Nobel-nominated Inuit activist and former International Chair of the Inuit Circumpolar Council Sheila Watt-Cloutier, Arctic spatial ecologist David Atkinson and "Ice Huts" architectural photographer Richard Johnson. Recorded in the auditorium of the National Gallery of Canada, Ottawa, as part of the Spur Festival of Ideas.(Photo: Ice Hut #530 by Richard Johnson. Joussard, Lesser Slave Lake, Alberta, 2011).
Richard Johnson on why many Canadians keep on ice fishing. Photo: Richard Johnson
Sheila Watt-Cloutier
Former Chair of the Inuit Circumpolar Conference, Sheila Watt-Cloutier tackles the many issues indigenous peoples are facing today, including environmental pollution and sustainable development.  Her early experience as an Inuktitut interpreter for the Ungava Hospital in Nunavik led to a lifetime commitment to improving health conditions and education in indigenous communities. The key theme of her latest book, The Right to Be Cold, is how climate change poses an existential threat to cultures that are embedded in ice and snow. Ms. Watt-Cloutier's numerous awards and 13 honorary doctorates include being made an Officer of the Order of Canada and one of the four 2015 Right Livelihood Awards — the so-called 'alternative Nobels'.
David Atkinson
Arctic spatial ecologist David Atkinson is an Assistant Professor at Ryerson University with over 16 years of experience in the Canadian North and many field seasons undertaking remote mid- and high-Arctic field research. Dr. Atkinson focuses on examining biophysical properties of terrestrial Arctic ecosystems and how satellite imagery can help to better understand Arctic change and disturbance. Most recently, Dr. Atkinson has been examining perennial snow packs and how they impact adjacent wetlands in terms of carbon dynamics and water resources.
Richard Johnson
With a background as an architectural photographer, Richard Johnson has spent a career in studying and photographing buildings. The Ice Huts project is a natural extension of this, an examination of a particular type of vernacular architecture unique to the northern regions of Canada. He set out to record the particular styles and cultures of ice fishing in each province, with a goal of travelling to a province a year. Over time, he has noted the particular variations of each region, influenced as they are by climate, landscape and culture. These huts are joyful expressions of people making the best of the grey landscape of Canadian winters.