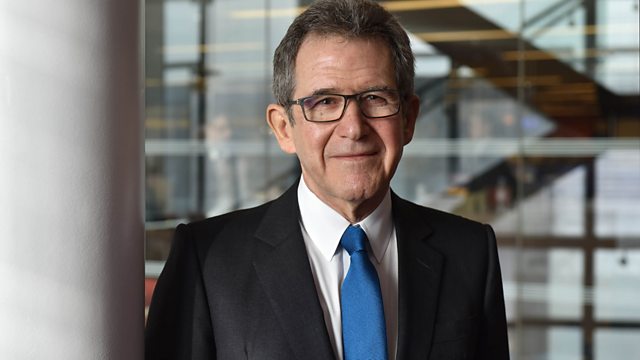 02/01/2016
Guest editor Lord Browne takes charge of the programme. Lord Browne discusses coming out at work, talks engineering with Prince Philip and we get a tour of the new Tate Modern project.
Last on
Today's running order
0710
The head of a unit set up by the MoD to investigate allegations of mistreatment and the unlawful killing of Iraqi civilians has said British soldiers who served in Iraq could face prosecution. We hear from the BBC's political correspondent Chris Mason and Colonel Richard Kemp, former commander of the British forces in Afghanistan.
0715
Our guest editor today is the former chief executive of BP Lord Browne. As a regular visitor to Venice Lord Browne was interested in the controversy created when the city's new Mayor banned 49 children's books from the city-run primary schools, many of which portrayed gay families. James Reynolds reports from Venice.
0720
This year's rail fare rises come into force today - on average, tickets go up by one point one per cent. Simon Jones reports from Paddington train station in London.  
0725
In 1997 when he was running BP our guest editor Lord Browne became the first boss of a major oil company to acknowledge publicly the link between fossil fuels and climate change. Roger Harrabin is the BBC's environment analyst.  
0730
Forecasters have warned of more heavy rain over the weekend as the clean-up effort continues in flood-hit areas of Scotland. Dan Whitworth is our reporter in Dumfries and we hear from John Swinney, deputy first minister of Scotland.
0740
Is it fair to say oil and gas companies have a mixed track record when it comes to connecting with society? Lord Browne has been speaking to his successor, Bob Dudley, chief executive of BP.
0750
The year opened with multiple fears about terror threats - in Germany authorities received a foreign intelligence warning that up to seven suicide bombers would attack two of the city's train stations. Dr Hugo Rosemont is assistant director of the Centre for Defence Studies at King's College London and Baroness Neville-Jones is former Minister of State for Security and Counter Terrorism at the Home Office.
0810
Forecasters have warned of more heavy rain over the weekend as the clean-up effort continues in flood-hit areas of Scotland. Sir James Bevan is chief executive of the Environment Agency.
0820
When today's guest editor Lord Browne was running BP his sexuality was a secret, but nine years on, there's only one openly gay CEO of a global company - Tim Cook, the CEO of Apple. As Lord Browne reports, the battle for inclusion is far from won.
0830
It's been said for many years that Britain doesn't have enough engineers, but what can be done about it? Lord Browne is a former president of the Royal Academy of Engineering – he went to meet Prince Phillip.
0835
Andrew Davies has made headlines this week- claiming that he's deliberately added to the new BBC series of War and Peace "a bit more sex" and written the scenes that "Tolstoy forgot". Speaking live on the programme is the award-winning screenwriter himself.
0840
A new extension at the Tate Modern art gallery is under construction - a giant brick pyramid eleven stories high, rising from the rear of the site on London's South Bank. Our guest editor Lord Browne chairs the Tate and he arranged a tour for us with the director of the Tate, Sir Nicholas Serota.
All subject to change.
So you think you know the Today programme?