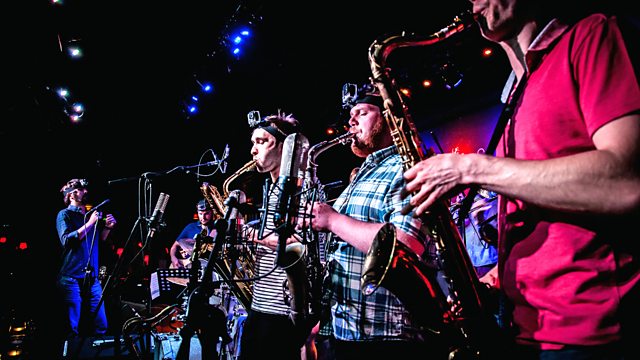 Beats and Pieces Big Band
A second chance to hear Manchester big band Beats and Pieces perform music from their latest album, All In, recorded live at London's Ronnie Scott's jazz club in July 2015.
Comprising many of Manchester's best and brightest young musicians, under the direction of composer and conductor Ben Cottrell, Beats and Pieces are one of the most exciting ensembles to emerge from the north of England in recent years.
Known for their explosive energy and heavyweight sound, they have reinvented big band music for a new generation, drawing on sources as diverse as Michael Jackson, Radiohead, Loose Tubes and Bjork.
The release of their award-winning debut album, 2012's Big Ideas, brought them a host of new fans and All In, last year's keenly awaited follow up, seems likely to win them many more. This live show sees the band at their edgy, hard-grooving best.
Presenter: Jez Nelson
Producer: Chris Elcombe.
Last on