Main content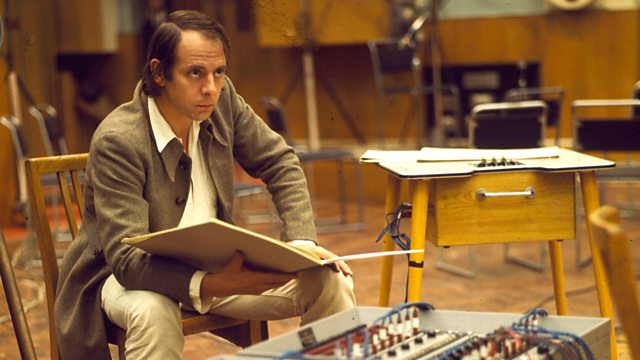 Donald Macleod and Robert Worby explore the difficulties of Stockhausen's early years and his training in Cologne.
New Year New Music
There aren't many composers with a place on the cover of a Beatles LP - Karlheinz Stockhausen's face is top row, fifth from the left on Sergeant Pepper. Stockhausen's name is better known than almost any other composer of our age. Yet even though much of his music isn't well known, by reputation he excites extremes of opinion. An open mind is all you need, when, for the first time on Composer of the Week, as part of Radio 3's "New Year New Music" season "Donald Macleod and his guest, composer, writer and broadcaster Robert Worby introduce you to the mind and music of one of the most original and innovative composers who's ever lived.
Stockhausen's formative experiences growing up in Nazi Germany show up in his music. His preoccupation with flight, mechanical mechanisms and the cause and effect of different sounds can all be traced back to his earliest childhood memories. Born in 1928 into a Catholic family, his father, Simon, was a primary school teacher and his mother, Gertrud came from a wealthy farming family. The family lived in some poverty, but his mother had a musical leaning, playing the piano and singing, while his father enjoyed amateur dramatics. Family life was disrupted when his mother needed to be hospitalised for the treatment of her depression. Thereafter family life for Stockhausen was unsettled. His father went to the front as an officer in 1943 and was presumed dead at the end of the war. In 1941, it's thought that Stockhausen's mother had been a victim of Hitler's "euthanasia policy". Now an orphan, in a devastated, war torn country, a 16 year old Stockhausen dedicated himself to surviving and studying, eventually gaining a place at the music school in Cologne. It was to be the platform on which his career as a composer was launched.
Today Donald Macleod and his guest, composer, writer and broadcaster Robert Worby look at the difficulties of his early years, and Stockhausen's training in Cologne. Once the prohibition of New Music during the Third Reich had been lifted, "modern classics" could be heard once again. Invigorated by this intellectual freedom, Stockhausen made the most of his opportunities, exploring the works of many composers, among them Hindemith, Stravinsky and Schoenberg.
Klavierstücke nos 2, 3 and 4
Herbert Henck, piano
Chöre für Doris
Charlotte Pedersen, soprano
Danish National Radio Choir
Jesper Grove Jorgensen, conductor
Sonatina for violin and piano
Saschko Gawriloff, violin
Aloys Kontarsky, piano
Gruppen
WDR Symphony Orchestra, Köln
Arturo Tamayo, conductor,orchestra 1
Péter Eötvös, conductor, orchestra 2.
More episodes
Previous
You are at the first episode