Main content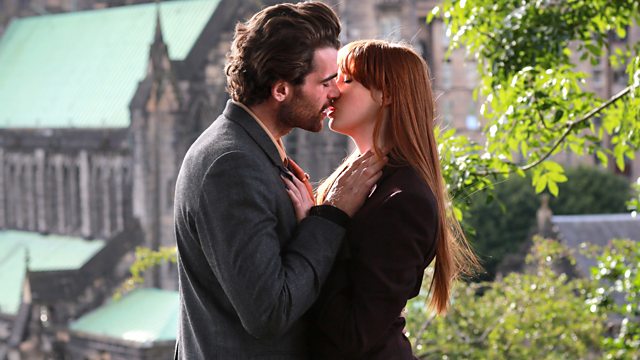 Not Another Happy Ending
Drama about a talented writer struggling to follow up a successful debut novel and the publisher relying on another bestseller to save his ailing business.
Jane Lockhart is a talented writer, hoping and waiting for a publisher to take a chance on her first novel; a barely fictionalised account of her own heartrending childhood. When indie publisher Tom Duval, a fiery-tempered Frenchman in Glasgow, discovers her work and signs her to a two-book deal, they establish a meaningful connection - a spark - that promises to become more than professional.
However, when Tom makes a snap decision about the novel without consulting Jane, their budding relationship goes downhill fast and an impulsive vow is made to never see one another again, once contractual obligations are finally fulfilled.
Jane's debut novel becomes a runaway success and soon she is the toast of the literary world. Only one book to go on her contract with Tom and she can strike a deal with publishing powerhouse Klinsch and McLeish. Jane is cranking out the pages until suddenly she falls into the black hole of writer's block.
For publisher Tom and his financially troubled business, this is a disaster. How can he get Jane to churn out another big hit and write those sweet, wonderful words 'THE END'? Tom believes that Jane's newfound recognition and budding romance with famed screenwriter Willie Scott is to blame; she's just too damn happy, and the only way that he is going to get her to write again is if he makes her life a misery.
With the help of his best friend, cynical high school teacher Roddy, he sets about trying to dismantle the things in Jane's life that makes her happy. The only trouble is, the worse he makes her feel, the more he realises that he is falling for her.
Credits
| Role | Contributor |
| --- | --- |
| Jane Lockhart | Karen Gillan |
| Stanley Weber | Tom Duval |
| Roddy | Iain De Caestecker |
| Willie Scott | Henry Ian Cusick |
| Anna Lefevre | Kate Dickie |
| Nicola Ball | Freya Mavor |
| Darsie | Amy Manson |
| Bennie Lockhart | Gary Lewis |
| Glen Buchan | Tom McGovern |
| Team member 1 | Niall Greig Fulton |
| Team member 2 | Bill Barclay |
| Bookshop owner | Cora Bissett |
| Dr Klinsch | Louise Goodall |
| Mr McLeish | John Bett |
| Quizmaster | Callum Cuthbertson |
| Producer | Claire Mundell |
| Producer | Wendy Griffin |
| Director | John McKay |
| Writer | David Solomons |
Broadcasts