Main content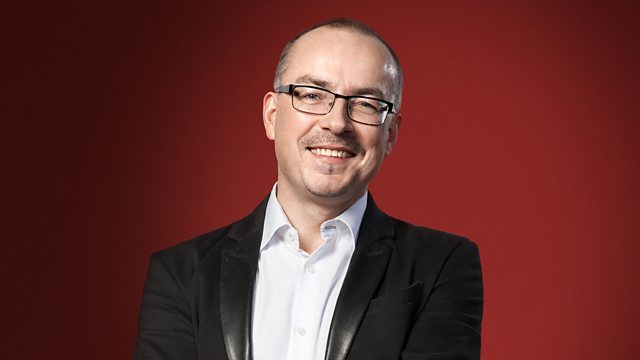 Building a Library: Beethoven's Symphony No 5
With Andrew McGregor. Including Building a Library: Beethoven: Symphony No 5; New releases including Saariaho, Martland, Feldman and Ferneyhough; Disc of the Week.
with Andrew McGregor
0930
Building a Library: Nicholas Baragwanath recommends a recording of Beethoven's 5th Symphony. It is an iconic work that has assumed a central place in the repertoire - admired not only for the intellectual rigour of its musical working out but also for the highly emotional atmosphere of its themes of fate, despair and heroic triumph over adversity.
1030
As part of New Year New Music, David Owen Norris and Sara Mohr-Pietsch join Andrew to discuss new releases of modern and contemporary music, including works by Saariaho, Martland, Feldman and Ferneyhough.
1140
Andrew plays an exciting new release as his Disc of the Week.
9.00am New Year, New Music, New Releases...1
Bach Plucked / Unplucked
Violaine Cochard (harpsichord), Edouard Ferlet (piano)
ALPHA ALPHA229 (CD)
Theremin Sonatas
TARNOW: Sonata No. 1 for theremin and piano; Intermezzo No. 1 for theremin and piano; Sonata No. 2 for theremin and piano; Intermezzo No. 2 for theremin and piano
Carolina Eyck (theremin), Christopher Tarnow (piano)
GENUIN GEN15363 (CD)
Anders Hillborg: Sirens
HILLBORG: Beast Sampler for orchestra; O dessa ogon for soprano and strings; Cold Heat for orchestra; Sirens for two sopranos, mixed choir and orchestra
Hannah Holgersson, Ida Falk Winland (sopranos), Swedish Radio Choir, Eric Ericson Chamber Choir, Royal Stockholm Philharmonic Orchestra, Esa-Pekka Salonen (conductor), Sakari Oramo (conductor), David Zinman (conductor)
BIS BIS2114 (Hybrid SACD)
Wolfgang Rihm Edition Vol. 7
RIHM: Abkehr; Schattenstuck; Two Other Movements
Radio-Sinfonieorchester Stuttgart des SWR, Christian Arming (conductor), Sir Roger Norrington (conductor)
SWR MUSIC SWR19001CD (CD)
9.30am Building a Library
Nicholas Baragwanath compares recordings of Beethoven's Symphony No.5 and makes a personal recommendation.
Top recommendation:
Beethoven - Symphonies Nos. 5 & 7
BEETHOVEN: Symphony No. 5 in C minor Op. 67; Symphony No. 7 in A major Op. 92
Vienna Philharmonic Orchestra, Carlos Kleiber (conductor)
DG 4474002 (CD)
10.20am New Year, New Music, New Releases...2
OPUS250
BERG, O: Concerto for Viola and Orchestra
ULVO: Shadows and Shields
SONDERLIND: Horns in Landscapes
PAUS: Concerto for Timpani
Ilze Klava (viola), Christian Stene (clarinet), Hakon Kartveit (timpani), Bergen Philharmonic Orchestra, Andrew Litton (conductor), James Macmillan (conductor), Edward Gardner (conductor)
LAWO LWC1089 (CD)
Wigglesworth: Echo and Narcissus
WIGGLESWORTH, RYAN: Augenlieder; A First Book of Inventions; Echo and Narcissus; Violin Concerto; Locke's Theatre
Claire Booth (soprano), Pamela Helen Stephen (mezzo-soprano), Mark Padmore (tenor), Barnabas Kelemen (violin), Ryan Wigglesworth (conductor/piano), RSVP VOICES, Halle
NMC NMCD213 (CD)
ENO, B, arr. J Pergolesi: Discreet Music
Emma Zoe Elkinson (flute), Dean Kurtis-Pomeroy (gongs), Contact
CANTALOUPE CA21114 (CD)
10.40am New Music Panel with Sara Mohr-Pietsch and David Owen Norris
As part of Radio 3's New Year New Music week, Andrew is joined by fellow broadcaster Sara Mohr-Pietsch and pianist David Owen Norris to discuss recent recordings of contemporary music.
Ivan Ilic plays Morton Feldman
FELDMAN, M: For Bunita Marcus
Ivan Ilic (piano)
PARATY PTY135305 (CD)
Steve Martland Anthology
MARTLAND: American Invention; Beat the Retreat; Crossing the Border; Eternal Delight; Horses of Instruction; Mr Anderson's Pavane; Patrol; Shoulder to Shoulder
The Steve Martland Band
NMC NMCD210 (2CD mid-price)
Rothko Chapel: Morton Feldman, Erik Satie, John Cage
CAGE: Four2; In a Landscape; Five; ear for Ear
FELDMAN, M: Rothko Chapel
SATIE: Gnossienne No. 4; Ogives No. 1; Ogives No. 2; Gnossienne No. 1; Gnossienne No. 3
Kim Kashkashian (viola), Sarah Rothenberg (piano/celeste), Steven Schick (percussion), Sonja Bruzauskas (mezzo-soprano), Lauren Snouffer (soprano), Houston Chamber Choir, Robert Simpson
ECM 4811796 (CD)
Kaija Saariaho: Let The Wind Speak
SAARIAHO: Tocar for violin and piano; Mirrors I; Couleurs du vent; Sombres miroirs I-III; Oi Kuu (To the Moon); Laconisme de l'aile for solo flute; Mirrors II; Mirrors III
Camilla Hoitenga (flutes), Heloise Dautry (harp), Anssi Karttunen (cello), Daniel Belcher (baritone), Da Camera of Houston
ONDINE ODE1276-2 (CD)
Brian Ferneyhough: Complete Piano Works
FERNEYHOUGH: Lemma-Icon-Epigram; Quirl; Opus Contra Naturam I-III; Invention; Epigram I-VI; Three Pieces for Piano; Sonata for Two Pianos
Nicholas Hodges (piano), Rolf Hind (piano)
NEOS NEOS11501 (2CD)
Gesualdo
DEAN, B: Carlo for strings, sampler and tape
GESUALDO: Moro, lasso, al mio duolo; O Crux benedicta
TUUR: L'ombra della croce; Psalmody
Estonian Philharmonic Chamber Choir, Tallinn Chamber Orchestra, Tonu Kaljuste (conductor)
ECM 4811800 (CD)
11.40am Disc of the Week
BACH, J S: Mass in B minor, BWV232
Hannah Morrison (soprano), Esther Brazil (mezzo), Meg Bragle (alto), Kate Symonds-Joy (alto), Peter Davoren (tenor), Nick Pritchard (tenor), Alex Ashworth (bass), David Shipley (bass), Monteverdi Choir, English Baroque Soloists, John Eliot Gardiner (conductor)