Main content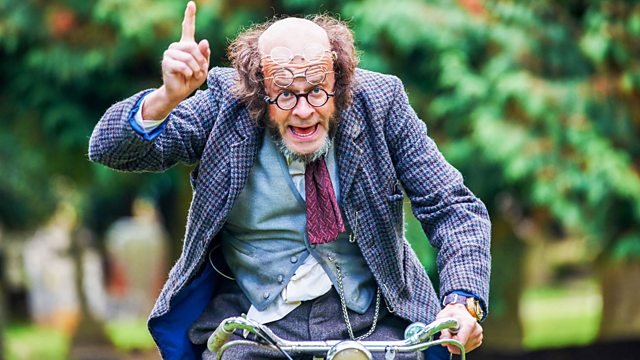 Harry Hill in Professor Branestawm Returns
Comedy adventure. Professor Branestawm has a rival. He's not the only inventor in town. Can he beat the rascally Professor Algebrain in an inventing competition?
When Lady Pagwell dies, leaving a substantial sum to fund local inventing, it could mean the end of Professor Branestawm's money troubles. But scheming local councillor Harold Haggerstone will stop at nothing to thwart Branestawm and insists that Pagwell holds an inventing competition to decide who gets the money.
Haggerstone tries to hire his own rival inventor. Professor Mary Oxford, from Cambridge, fails to impress with a nuclear-powered paperweight. The Invisibaliser presented by Professor Awfulshirt causes havoc (and much invisibleness). But when Professor Algebrain, from an unspecified European country, turns up, Haggerstone thinks he's on to a winner.
Branestawm, meanwhile, is having problems of his own. Not only is he struggling to come up with an invention that will really knocks the judges' socks off, he's upset his faithful young assistant, Connie. He's so wrapped up in his work that he's been neglecting her, and she's torn between helping him and working with the seemingly charming and attentive Professor Algebrain.
Credits
| Role | Contributor |
| --- | --- |
| Professor Branestawm | Harry Hill |
| Connie | Madeline Holliday |
| Colonel Dedshott | Simon Day |
| Mrs Flittersnoop | Vicki Pepperdine |
| Aggie | Sophie Thompson |
| Lady Pagwell | Diana Rigg |
| Professor Algebrain | Steve Pemberton |
| PC Peasey | Jason Forbes |
| Radio Producer | Maya Sondhi |
| Harold Haggerstone | David Mitchell |
| Miss Silt | Doreen Ingleton |
| The Mayor | Charlie Higson |
| The Vicar | Adrian Scarborough |
| Mary Oxford | Rosie Cavaliero |
| Professor Awfulshirt | Matt Berry |
| Radio Announcer | Justin Edwards |
| Miss Pagwell | Alexa Morden |
| Maisie | Lily May Palmer |
| Author | Norman Hunter |
| Writer | Charlie Higson |
| Executive Producer | Ben Farrell |
| Producer | Rosemary McGowan |
| Director | Sandy Johnson |