Main content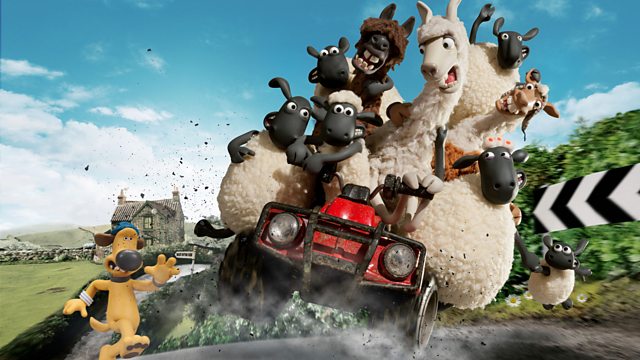 The Farmer's Llamas
Animated comedy. Shaun the Sheep tricks the Farmer into buying three prank-pulling llamas, but when the mischief goes too far, Shaun is forced to take action to get rid of them.
When the Farmer and Bitzer go to a country fair, Shaun steals away with them, intent on causing mischief. There, Shaun spies an auction, where he sees three exotic and very crafty llamas going under the hammer. Instantly besotted by their fantastic pranks, Shaun cleverly gets the unwitting Farmer to buy them.
Back at Mossy Bottom, Shaun is delighted with his mischief and convinces the flock that the llamas are just what they need to spice up their lives. At first everything's great fun, but soon their new llama roommates pull pranks that go too far. They become unwanted house guests, like a group of out-of-control teenagers intent on trashing everything before them.
When things spiral out of control and the llamas install themselves inside the farmhouse, Shaun is forced to take action. With the help of some chewing gum and a set of panpipes, Shaun may just be able to oust the destructive intruders and save the farm...
With the voices of Justin Fletcher, John Sparkes, Shaun Connolly and Chris Grimes. Plus Kate Harbour, Simon Greenall, Andy Nyman, Emma Tate, Rich Webber and Dan Williamson.
Clips

Credits
| Role | Contributor |
| --- | --- |
| Director | Jay Grace |
| Producer | John Woolley |
| Producer | Paul Kewley |
| Writer | Nick Vincent Murphy |
| Writer | Lee Pressman |
| Writer | Richard Starzak |
| Production Company | Aardman Animations |
Featured in...
Must watch shows from across the BBC

Catch up with the amazing features and films that have been on the CBBC channel