Main content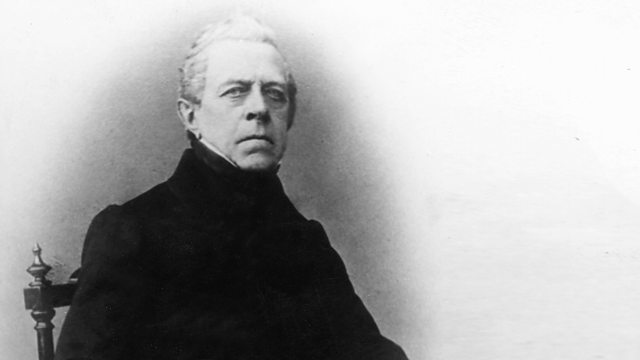 Donald Macleod focuses on Berwald's last years, in which he saw his opera Estrella de Soria staged and was finally admitted as a Fellow of the Swedish Royal Academy of Music.
Donald Macleod explores Franz Berwald's last years, in which he sees his opera Estrella de Soria staged and is finally admitted as a Fellow of the Swedish Royal Academy of Music.
It was only after his death that Franz Berwald acquired his reputation as Sweden's great symphonist. During his lifetime his music was largely dismissed or ignored. To make ends meet he pursued several other careers alongside composition and proved to have a sharp business mind. He made a living as an early physiotherapist, dabbled in publishing and ran a saw-mill and a glass works. Once, when he was asked if he was a composer his reply was "No, I'm a glassblower".
Both the man and his music were often misunderstood. We now appreciate his musical legacy, particularly his symphonies and opera overtures, his tone poems and his music for violin. But relatively little of his music was performed in his own lifetime - and that which was performed was sometimes badly received and reviewed. Donald Macleod tells the story of a composer whose work was too often neglected in his own lifetime but who was eventually hailed in Sweden as "our most original and modern orchestral composer".
Today Donald explores Berwald's lifelong love of opera. Sadly, it was a largely unrequited love: it took over twenty years for his romantic grand opera Estrella di Soria to be performed. At the time Berwald was running a brick-making factory. He wrote his last opera, the Queen of Golconda with his talented pupil Christina Nilsson in mind for the title role of the beautiful, widowed queen. Sadly, Berwald never saw Nilsson - or indeed anybody else - playing the queen - the opera was never performed in his lifetime.
Although Berwald stuck his contemporaries as arrogant and reserved, underneath the forbidding, haughty exterior there was actually a man of compassion, generosity, even humour. He once said, "Art may be coupled only with a cheerful frame of mind. The weak-willed should have nothing to do with it. Even if interesting for a moment, in the end every sighing artist will bore listeners to death. Therefore: liveliness and energy - feeling and reason"
Overture to Estrella de Soria
Stockholm Philharmonic Orchestra
Sten Broman, conductor
Du hatar ej den sorg (You hate not the grief) - Aria from Queen of Golconda
Royal Orchestra Stockholm
Elizabeth Söderström, soprano
Stig Westerberg, conductor
Symphony No. 1 in G minor (Sérieuse) - II. Adagio maestoso
San Francisco Symphony Orchestra
Herbert Blomstedt, conductor
String Quartet in A minor - Finale: Allegro molto
The Frydén String Quartet
Symphony No. 3 in C Major (Singulière) - II. Adagio & III. Finale: Presto
Stockholm Philharmonic Orchestra
Hans Schmidt-Isserstedt, conductor.
More episodes
Next
You are at the last episode