Main content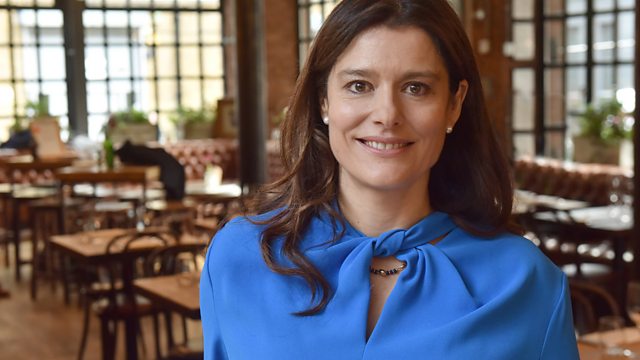 30/12/2015
Guest editor Miriam Gonzalez Durantez takes charge of the programme. Miriam talks children's food with Jamie Oliver and Bake Off champion Nadiya Hussain and interviews Home Secretary Theresa May and Manchester City footballer Vincent Kompany.
Today's running order
0645
Our guest editor today is Miriam Gonzalez Durantez. As part of her programme she would like to talk about women and leadership - and in particular about Hillary Clinton's campaign. We spoke to Gloria Steinem, writer and activist, who read an excerpt from her latest book, On the Road, in which she compares Hillary Clinton with Barack Obama during the 2008 contest for the democratic nomination.
0650
For the first time in the world, a brain scanner is being trialled by the London's Air Ambulance charity in the pre-hospital environment, to detect for potentially life-threatening head injuries during an emergency call out. Dr Mark Wilson is consultant neurosurgeon at Imperial College.
0655
The report, Breaking down the Barriers, reveals that people over the age of 75 often lack the knowledge and confidence to complain, and worry about the impact complaining might have on their future care and treatment. Authors say there are 'far fewer' complaints from older people than would be expected considering elderly people's high usage of NHS and social care services. Mick Martin is deputy parliamentary and health service ombudsman.
0710
The Cabinet Office minister, Oliver Letwin, has apologised unreservedly after being accused of making racist remarks in a confidential government memo he helped to write after a riot in Broadwater Farm in Tottenham in 1985. Mr Letwin said the memo was "badly worded and wrong". Trevor Phillips is former head of the Equality and Human Rights Commission.
0715
With more than half of the Netherlands at or below sea level, the country has long been a global leader in flood defences. In recent years they have started a Room for the River programme, giving floodplains back to rivers, letting them flood upstream, rather than simply defending towns downstream with flood defences. John Alexander is managing director of Aquobex and Harold Van Waveran is principal expert on flood protection at the Dutch government's Ministry of Infrastructure and Environment.
0720
Miriam Gonzalez Durantez, our guest editor today, runs a campaign to inspire young girls to make positive choices about their lives and careers. Men have a crucial role to play in adjusting their expectations to make this happen, particularly in the sphere of childcare. So what is life like for full-time dads? Our reporter Tom Bateman's been speaking to some in Tower Hamlets in east London and Miriam Gonzalez Durantez spoke to Sir Richard Branson about balancing fatherhood and running a business.
0735
By the end of next year, the recently established National Infrastructure Commission will have produced a blueprint for the type of infrastructure this country needs in the next 30 years. The commission was set up to try to remove political obstacles to long term infrastructure planning. Sir John Armitt is President of the Institute of Civil Engineers and member of the National Infrastructure Commission.
0745
You're Beautiful when to number 1 in ten countries and turned former army officer James Blunt into a superstar. Despite that success, James Blunt has faced a great deal of sneering and snobbery from the music press and others who find his accent too pompous and his music too sentimental. He spoke to Miriam Gonzalez Durantez about masculinity and sensitivity.
0750
Our guest editor Miriam Gonzalez Durantez is keen to highlight male role models, including in football, where lavish lifestyles often come with the big salaries. Mishal Husain spoke to Vincent Kompany, captain of Manchester City and the Belgian national team, who's tried to use football as a force for good for disadvantaged young people in his native Brussels.
0810
North-west England and Scotland were braced for more flooding in the early hours of this morning, as a new storm brings heavy rain and high winds to parts of the UK. Storm Frank hit Northern Ireland on Tuesday evening leaving 7,500 homes without electricity. We speak to our reporters Dave Guest in Lancashire, James Shaw in Dumfries and Matthew Price in Carlisle.
0820
As the founder of a campaign to inspire girls to make positive career choices, our guest editor Miriam Gonzalez Durantez wanted to speak to the most powerful woman in Westminster - the Home Secretary Theresa May. She set out to become a politician at the age of 12. Miriam went to meet Theresa May at the Home Office and asked whether she thinks she is treated differently from other senior politicians because she is woman
0830
More than 60 British women and girls are thought to have travelled to Syria - with others being targeted by IS recruiters. We've spoken to one who was contacted over the internet by people claiming to be teenagers in Syria. She been supported by an organisation called The Unity of Faiths Foundation, which fights radicalisation through football. Umra Butt is a member of the Youth Parliament and an Ambassador for TUFF FC and Laura Zahra McDonald is director at Connect Justice, an organisation working on fighting extremism.
0840
Earlier this year our guest editor Miriam Gonzalez Durantez was outed as the author of a well-known cooking blog that she had created after encouragement from her children. She got together with celebrity chef and food campaigner Jamie Oliver and Great British Bake Off winner Nadiya Hussain to talk about and family and food.
0850
Miriam Gonzalez moved to the UK after marrying the former Liberal Democrat leader Nick Clegg.  Throughout the programme we've heard from prominent immigrants about their personal and professional experience. Tamara Rojo is artistic director and lead principal dancer of English National Ballet.
All subject to change