Main content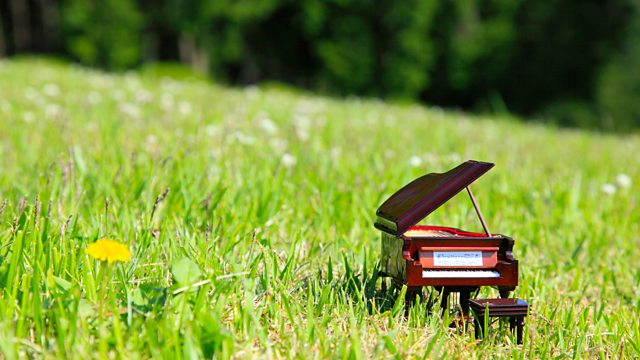 Tiny Tinkles
Some of the very first musical sounds we hear and make are on instruments that 'tinkle'. Rainer Hersch investigates why they evoke childhood but can have a creepier quality.
Comedian and conductor Rainer Hersch investigates how and why 'tinkly' musical sounds are so evocative of childhood, but can also have a creepier quality.
Starting with the toy piano, is there something inherent in the tinkly musical quality or is it just the kind of music we think that very small children like to hear?
The Schoenhut Piano Company still makes toy baby grands that are played seriously by concert pianists such as Xenia Pestova. She charts the history of the toy piano in serious music to Rainer - one that began with John Cage in 1948 - and explains the advantages and drawbacks over their grown up versions.
In Bristol, Rainer visits The Music Box Shop to talk to Richard Dean. He tells Rainer that music boxes of the 18th and 19th century were essentially portable mp3 players which could fit into pocket watches - the very first time that music could be 'recorded' and reproduced.
Victoria Williamson, a researcher and lecturer at the University of Sheffield whose research focuses on music and memory, suggests that the simplicity of these instruments means that the music available is in simple tonal forms, with limited notes in particular key and a simple melody - very similar to lullabies.
Rainer asks why this 'tinkling' music can suddenly become sinister. Richard Dean at the Music Box Shop - who have supplied boxes for props to the horror classic The Woman in Black - suggests it's the idea of a 'luddite technology' where no one is obviously playing the instrument. Victoria Williamson suggests that our emotional reaction is a battle between the quality of the sound and a learned reaction based on our memories.
A Testbed production for BBC Radio 4
'Crazy Legs'
Composer: Ed Bennett
Played live by Xenia Pestova
John Cage - Suite for Toy Piano
Music for Amplified Toy Pianos
Played by Pascal Meyer and Xenia Pestova
'Patience'
Toy Piano and Electronics
Composer: Lauren Sarah Hayes
Played live by Xenia Pestova
'Recollections'
Composer: Yfat Soul Zisso
Played live by Xenia Pestova.
Featured in...
Weird instruments and unearthly rhythms from hang drums, theremins and mellotrons.