Main content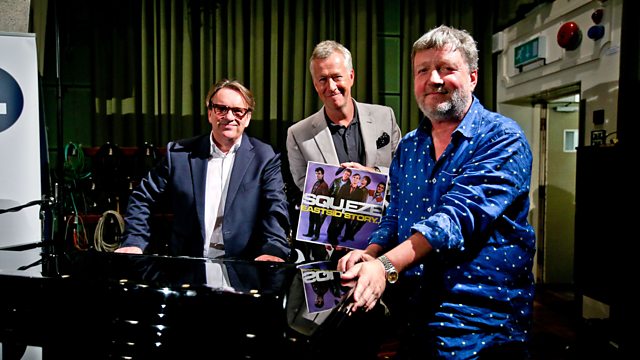 Squeeze (the A-Side)
Glenn Tilbrook and Chris Difford talk and play their way back to 1981 and the fourth Squeeze album, East Side Story.
John Wilson continues with his new series in which he talks to leading performers and songwriters about the album that made them or changed them. Recorded in front of a live audience at the BBC's iconic Maida Vale Studios.
Programme 3. Squeeze's 'East Side Story' with Glenn Tilbrook and Chris Difford.
Originally intended as a four-sided double LP with each side using a different producer (Dave Edmunds, Nick Lowe, Paul McCartney and Elvis Costello), East Side Story was released in 1981 as a single LP with 14 songs. With it Squeeze moved away from their traditional 'new wave' sound to a more varied mix of genres that took in rockabilly, R&B, blue-eyed soul, Merseybeat, and psychedelia.
With tracks like Tempted, Is That Love, Messed Around and Labelled with Love (which was only on the album because eventual producer Elvis Costello persuaded Glenn Tilbrook it should be included) the album is packed with keen, precise, funny and sad lyrics about lovers, drunks, deadbeats and lonely working girls - or as Chris Difford describes them: 'suburban short stories'.
Complete versions of the songs performed in the programme (as well as some that weren't) can be heard on the 'Mastertapes' pages on the Radio 4 website.
The B-side of the programme, where it's the turn of the audience to ask the questions, can be heard on Tuesday 29th December at 3.30pm.
Producer: Paul Kobrak.