Main content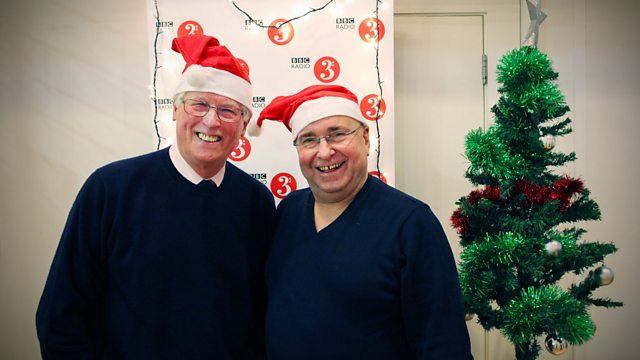 Wednesday - Rob Cowan with John Craven
With Sarah Walker. Including performances by Jussi Bjorling; Music in Time: John Blow: Chaconne in G; Nordic composers: Stenhammar: Symphony No 2.
9am
As part of Radio 3's Northern Lights season Rob has chosen a singer who was known as the 'Swedish Caruso", Jussi Björling. Rob serves up a feast of songs including works by Verdi, Beethoven, Puccini and Grieg. Along the way he showcases Björling's versatility, his dramatic sensibility and his deep connection with Scandinavia.
9.30am
Take part in today's music-related challenge and identify the place associated with a work.
10am
Rob's guest is the original Newsround anchor and Countryfile veteran John Craven. John is remembered by generations of children for his afternoon news bulletins and jazzy jumpers, and nowadays brings his unique brand of welly-wearing journalism to an audience of millions as he chronicles modern rural life in Countryfile. John will be sharing some of his favourite classical music, including wintery scenes from Sibelius and Vivaldi, a very merry rendition of O Come all ye Faithful courtesy of the American tenor and Hollywood star Mario Lanza, and Tchaikovsky's Piano Concerto.
10.30am
Rob places Music in Time. The spotlight is on the Baroque with John Blow's Chaconne in G in which a repeated bass line gives the opportunity for the creation of colour and variety.
11am
As part of Radio 3's Northern Lights season, Rob features recordings of major works by leading Nordic composers. Throughout the week Rob explores music from the frozen North, showcasing composers including Stenhammar, Kraus and Alfven.
Stenhammar
Symphony No. 2
Stockholm Philharmonic Orchestra
Stig Westerberg (conductor).
Music Played
5 REASONS TO LOVE...JUSSI BJÖRLING

JOHN CRAVEN'S CHOICE No. 1

JOHN CRAVEN'S CHOICE No. 2

MUSIC IN TIME: Baroque

NORDIC MASTERPIECE
Mapping the Music
Answer: Dresden
The music played:
Heinichen
Concerto in G major, Seibel 215 (Dresden Concerti)
Musica Antiqua Koln
Reinhard Goebel (conductor)
ARCHIV