Main content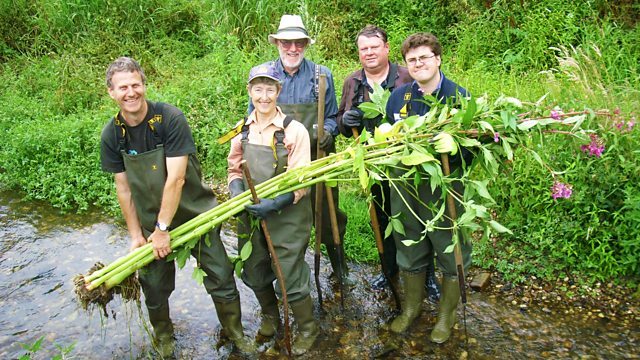 Tale Valley, Devon
Helen Mark learns how theatre is revisiting the stories of the landscape in Devon's Tale Valley.
The Tale Valley is a little known corner of Devon that tourists tend to bypass on their way down to Cornwall. However it has a rich history, and as Helen Mark discovers, man and nature have made an impact on the farming landscape we see today.
One night in May 1941 this quiet valley witnessed the horror of war, when a German bomber crashed - scattering its four airmen across four parishes. Farmer Derek Johns takes Helen alongside the River Tale to the spot where his father came across one of the bodies as he was due to milk the cows the following morning. Helen also hears the stories of those who were children at the time of the crash, to understand how the event affected the landscape and its people.
Theatre director and former drama lecturer John Somers tells Helen how an ambitious production was developed out of this true story, set in the field next to where one of the German airmen fell. Involving hundreds of residents, the play by Tale Valley Community Theatre is typical of the style of production John puts on to bring the community together, and give them an insight into their local area which they might not have otherwise.
Helen meets Caius Nicholas, a young aspiring actor who had a lead role in one of the company's most recent productions, which was based on a real life soldier named on the war memorial in the village of Payhembury. Helen then heads to a local landmark, Hembury Fort, where she volunteers to cut back scrub and bracken which has overwhelmed this historic site. Former Devon county archaeologist, Professor Frances Griffith, and Carrel Jevons, who looks after this privately-owned hill fort, outline the plans to clear the vegetation which will allow them to find out more about the Roman, Iron Age and Neolithic remains that lie below the ground.
Finally, Helen returns to the River Tale where she goes in search of the elusive water vole on the Escot estate. Sarah Hogg from the Tale Valley Trust and Derek Gow explain how the animal was successfully reintroduced to the river, continuing a tradition of bringing back species to encourage man and nature to work hand in hand.
Presenter: Helen Mark
Producer: Fiona Clampin.
Last on
Broadcast

Podcast
Countryside magazine featuring the people and wildlife that shape the landscape of Britain