Main content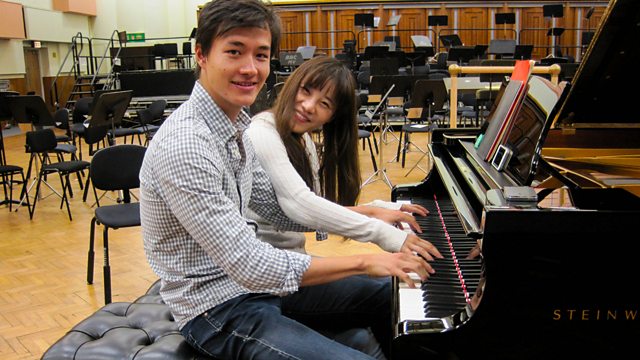 Kitty Whately, Lise Berthaud, Louis Schwizgebel, Zhang Zuo, Peter Moore, Olena Tokar
BBC New Generation Artists focus on Austro-German Romantic repertoire by Mendelssohn, Schubert and Brahms. Featuring Lise Berthaud, Louis Schwizgebel, Zhan Zhuo and Peter Moore.
Clemency Burton-Hill celebrates the music making of the BBC New Generation Artists. Today's programme has an Austro-German focus and features four departing NGAs. Lise Berthaud delights in the teenage Mendelssohn's seldom heard Viola Sonata and Louis Schwizgebel and Zhan Zhuo explore the the haunting, moonlit world of Schubert's late piano due. And incoming NGA, Peter Moore finds a sombre voice on his trombone for Brahms's late songs, written under the shadow of the death of his friend, Clara Schumann.
Mendelssohn
Viola Sonata in C minor
Lise Berthaud (viola), Xenia Maliarevitch (piano)
Schubert
Fantasie in F minor D.940 for piano duet
Louis Schwizgebel and Zhan Zhuo (piano)
Brahms
Four Serious Songs
Peter Moore (trombone), Jonathan Ware (piano)
Tchaikovsky
It was in early spring 6 Songs Op.38, no.2
Olena Tokar (soprano), Igor Grysyn (piano).