Main content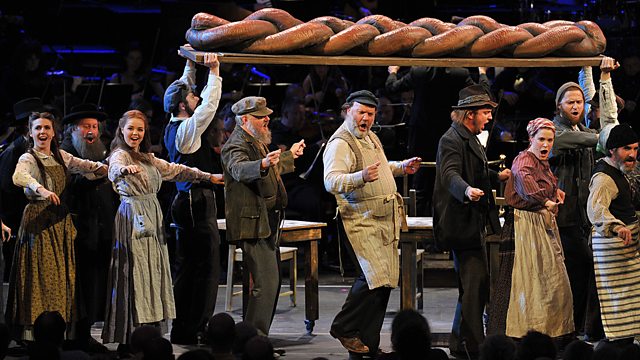 Prom 11: Fiddler on the Roof
Recorded at the BBC Proms 2015, Bryn Terfel and Grange Park Opera join the BBC Concert Orchestra under David Charles Abell for their production of Fiddler on the Roof.
Grange Park Opera bring their acclaimed production of Fiddler on the Roof to the BBC Proms. Bryn Terfel stars, joining the BBC Concert Orchestra and conductor David Charles Abell.
Jerry Bock and Sheldon Harnick's Fiddler on the Roof brims with numbers such as 'If I were a rich man', 'Sunrise, sunset' and 'Miracle of Miracles'. Hampshire's Grange Park Opera makes its Proms debut with a semi-staged performance of its new production starring Bryn Terfel as Tevye, the village milkman in pre-Revolutionary Russia trying, in vain, to bring up his five daughters within the time-honoured traditions of his Jewish forebears.
From the Royal Albert Hall, London
Presented by Ian Skelly
Bock: Fiddler on the Roof (semi-staged)
Tevye .....Bryn Terfel
Golde ..... Janet Fullerlove
Tzeitel ..... Charlotte Harwood
Hodel ..... Katie Hall
Chava ..... Molly Lynch
Yente ..... Rebecca Wheatley
Lazar Wolf ..... Cameron Blakely
Motel Kamzoil ..... Anthony Flaum
Perchik ..... Jordan Pollard
Fyedka ..... Craig Fletcher
Constable ..... Mark Heenehan
Shprintze ..... Maisie Tween
Bielke ..... Bella Donald
Rabbi ..... Richard Reaville
Grandma Tzeitel ..... Helen Ogden
Fruma-Sarah ..... Gemma Morsley
Nachum ..... David Booth
Shaindel ..... Sidonie Winter
Mendel ..... Seumas Begg
Mordcha ..... Richard Woodall
Avram .....Ryan Ross
Fiddler ..... Houcheng Kian
Grange Park Opera
BBC Concert Orchestra
David Charles Abell (conductor).