Main content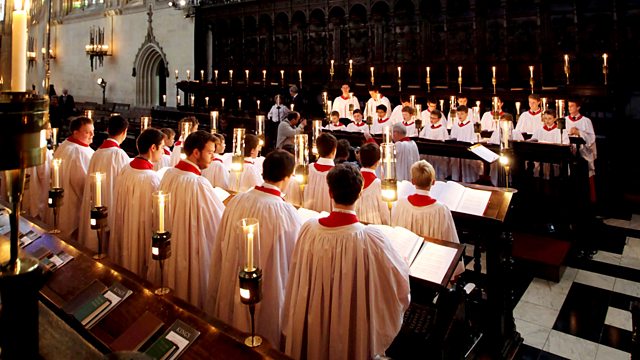 24/12/2015
From the candlelit chapel of King's College, Cambridge, and based around nine Bible readings interspersed with Christmas hymns and carols sung by the world-famous chapel choir.
Live from the Chapel of King's College, Cambridge
Hymn: Once in Royal David's City (desc. David Willcocks)
Bidding Prayer read by the Dean
What Sweeter Music? (John Rutter)
First lesson: Genesis 3 vv 8-19 read by a Chorister
This is the truth sent from above (Ralph Vaughan Williams)
Adam Lay Ybounden (Boris Ord)
Second lesson: Genesis 22 vv 15-18 read by a Choral Scholar
Ding, Dong, Merrily on High (David Willcocks)
In Dulci Jubilo (Robert Lucas Pearsall)
Third lesson: Isaiah 9 vv 2, 6-7 read by a member of the College staff.
Sussex Carol (arr. David Willcocks)
Hymn: It came upon the midnight clear (desc. Stephen Cleobury)
Fourth lesson: Isaiah 11 vv 1-3a, 4a, 6-9 read by a representative of the City of Cambridge.
A Tender Shoot (arr. Otto Goldschmidt)
A Spotless Rose (Philip Ledger)
Fifth lesson: Luke 1 vv 26-38 read by the Master over the Choristers.
The Angel Gabriel from Heaven Came (arr. David Willcocks)
Nova, Nova (John Scott)
Sixth lesson: Luke 2 vv 1 -7 read by the Chaplain
In The Bleak Midwinter (Harold Darke)
Dormi, Jesu (John Rutter)
Seventh lesson: Luke 2 vv 8-16 read by the Director of Music
The Shepherd's Carol (Bob Chilcott)
Hymn: God Rest You Merry, Gentlemen (arr. David Willcocks)
Eighth lesson: Matthew 2 vv 1-12 read by the Vice-Provost
The Flight (Richard Causton - newly commissioned)
Here is the Little Door (Herbert Howells)
Ninth lesson: John 1 vv 1-14 read by the Provost
Hymn: O come, all ye faithful (arr. David Willcocks)
Blessing
Hymn: Hark, the Herald Angels Sing (arr. David Willcocks)
Organ voluntaries:
In dulci jubilo (BWV 729) (Bach)
Sortie on 'In dulci jubilo' (David Briggs) [broadcast on Radio 3 on Christmas Day only]
Director of Music: Stephen Cleobury
Organ Scholar: Tom Etheridge
Producer: Philip Billson
For many around the world, A Festival of Nine Lessons and Carols, live from the candlelit Chapel of King's College, Cambridge, marks the beginning of Christmas. It is based around nine Bible readings which tell the story of the loving purposes of God. They are interspersed with carols old and new, sung by the world-famous chapel choir who also lead the congregation in traditional Christmas hymns.
Explanatory notes from Director of Music Stephen Cleobury:
"This year's selection has a very strong King's basis. The commissioned carol is from Richard Causton, a Fellow of King's College, and a university lecturer in composition. He has, in turn, commissioned a new text from George Szirtes, which has strong contemporary resonances.
In September we heard the sad news of the death of one of my predecessors here at King's, the legendary Sir David Willcocks. His many carol arrangements and descants are known the world over, and we include a number of these. Near the beginning and the end are pieces by Vaughan Williams and Howells, both composers having been very closely associated with David Willcocks.
Also, during the summer, the world of church and organ music mourned the loss of John Scott, whose setting of Nova, Nova comes after the Annunciation lesson.
We mark the 70th birthday of John Rutter by including two of the carols he has written for King's over the years. Bob Chilcott, 60 this year, is a former chorister and choral scholar of King's, and his commission for the Choir is also programmed.
Carols by Boris Ord, Harold Darke and Philip Ledger also find a place. Ord and Ledger were, respectively, the predecessor and successor of Willcocks, while Darke looked after the Choir during WW2."
Notes on the commissioned carol - Richard Causton writes:
Earlier this year I spent a great deal of time in libraries looking for a suitable text for my new carol and although I unearthed many old and very beautiful poems about the Nativity, I struggled to find one that I really wanted to set to music. I had a growing sense that at this precise moment it is perverse to be writing a piece about a child born in poverty, away from home and forced to flee with his parents, without in any way paying reference to the appalling refugee crisis that is currently unfolding.
I phoned my friend, the poet George Szirtes to ask if he might be prepared to write me a poem which could encompass some of these ideas. By complete coincidence, the very day I phoned he was in Hungary, at Budapest railway station talking to the refugees who were stuck there while trying to leave the country. Within days, George sent me a poem that is at once beautiful, eloquent and hard-hitting.
Last on
Broadcast

Once in royal David's city – stepping up for the great solo
Celebrating 100 years of Nine Lessons and Carols