Main content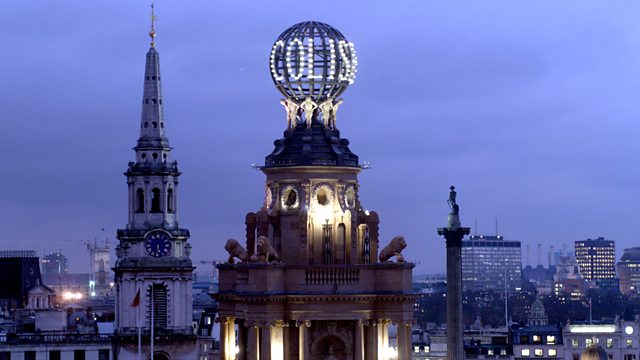 Verdi's The Force of Destiny
Donald Macleod presents an ENO production of Verdi's opera The Force of Destiny, conducted by Mark Wigglesworth. With a cast led by Tamara Wilson and Gwyn Hughes Jones.
Verdi's The Force of Destiny, recorded last month at the London Coliseum. Mark Wigglesworth conducts the ENO orchestra and chorus, as well as a superb cast lead by the soprano Tamara Wilson in a critically acclaimed performance as Donna Leonora, and the tenor Gwyn Hughes Jones as her lover Don Alvaro. Don Carlo di Vargas is sung by the baritone Anthony Michaels-Moore. Drawing from deep personal references, Calixto Bieito directs this new production at the English National Opera staging this tale of love and revenge - with the main characters incapable of escaping their doomed fate - in the middle of the Spanish Civil War. Presented by Donald Macleod.
Donna Leonora..... Tamara Wilson (soprano)
Don Alvaro..... Gwyn Hughes Jones (tenor)
Don Carlo di Vargas..... Anthony Michaels-Moore (baritone)
Padre Guardiano..... James Creswell (bass)
Fra Melitone..... Andrew Shore (baritone)
Preziosilla..... Rinat Shaham (mezzo-soprano)
Marquis of Calatrava..... Matthew Best (bass)
Curra..... Clare Presland (mezzo-soprano)
Trabuco..... Adrian Dwyer (tenor)
Alcalde..... Nicholas Folwell (baritone)
The Orchestra and Chorus of the English National Opera
Mark Wigglesworth (conductor).
Synopsis
Act I. The Marquis of Calatrava's house
Leonora, daughter of the Marquis of Calatrava, has agreed to elope with Don Alvaro, a South American nobleman. But respect for her father and the thought of abandoning her home make her hesitant. Alvaro arrives, impetuous to be off with Leonora. She, however, shows signs of reluctance and asks him to postpone their departure. He accuses her of not loving him, which she passionately refutes. The Marquis interrupts them, disowns Leonora and challenges Alvaro, who surrenders and throws down his pistol. But the weapon accidentally discharges, fatally wounding the Marquis, who curses his daughter with his final breath.
Act II Scene 1. A remote village
After the Marquis's death Alvaro and Leonora fled. However, they soon became separated from one another and each now believes the other dead.A group of villagers are outside celebrating with the Mayor and Trabuco, a travelling salesman. Leonora, hiding in the crowd recognises the voice of her brother, Don Carlo, who is posing as a student; he is searching for his sister and Alvaro, intent on exacting revenge for the Marquis's death. When she sees Carlo, Leonora withdraws before he can recognise her. Preziosilla, a soldier's widow, exhorts the men to enlist and fight in the ongoing war.
Pilgrims are heard in the distance, and as they pass by everyone echoes their prayers. Before settling down for the night, Carlo closely questions Trabuco about the identity of a youth who accompanies him, but Trabuco's answers are non-committal. The Mayor of the village quizzes Carlo about his own background. Carlo identifies himself as a student called Pereda who has abandoned his studies in order to help a friend track down his sister and her lover. Preziosilla sees through his story at once.
Scene 2. Outside the monastery, close to the village
Leonora is seeking refuge in a nearby monastery. She is appalled by what her brother said at the inn, especially the news that Alvaro is still alive, and prays for forgiveness. She rings the monastery bell and the friar Melitone answers. He fetches the Father Superior from whom Leonora requests sanctuary. During a solemn ritual, the Father Superior tells the monks that a hermit (Leonora) is to live in a nearby mountain cave, whose privacy they must respect.
Act III Scene 1. A battlefield at the dead of night
Soldiers are heard in the background. Alvaro, now in the army, recalls his past and the cruel harshness of destiny. Believing Leonora to be dead, he prays she will take pity on him. Cries for help interrupt his thoughts and he goes to investigate. He returns with Carlo whom he has rescued from assassins. Neither has recognised the other, and they each introduce themselves using false names before swearing allegiance to one another. At the sounds of a renewed enemy attack, they rush off to fight.
Scene 2. Morning
A battle is in progress. As victory is announced, Alvaro, badly wounded, is brought in. Carlo attempts to encourage him. He offers Alvaro a military decoration in the name of the Calatrava family, to which the wounded man reacts badly. Alvaro entrusts to Carlo a package which should be destroyed in the event of his death. Alone, Carlo considers on Alvaro's adverse reaction to the Calatrava name and suspects that he might be Leonora's seducer. His conscience stops him from reading the sealed documents, but elsewhere among Alvaro's belongings he discovers a portrait of Leonora. A doctor tells Carlo that Alvaro is out of danger and will survive. Carlo is delighted by this news for he will be able to exact his vengeance.
Scene 3.
Preziosilla moves among the soldiers, motivating them into battle. Trabuco is buying and selling trinkets. Led by Preziosilla, soldiers mock starving refugees as they beg for food. Melitone reprimands everyone for their dissolute behaviour. Preziosilla interrupts by leading everyone off in a rousing song of war. After asking Alvaro how his wounds are healing, Carlo calls him by his real name, discloses his own true identity and tells him that Leonora is alive. Alvaro reminds Carlo of their oath of friendship, and protests his innocence. For a moment, he even imagines that all will be well, but Carlo remains adamant that both Leonora and Alvaro must die in order to satisfy his family's honour, and the two men begin to fight. A group of soldiers intervene and drag Carlo away, while Alvaro calls on God to guide him.
Act IV Scene 1. Inside the monastery, some years later
Melitone is feeding a crowd of refugees watched over by the Father Superior. He mentions the eccentric behaviour of one of the brethren, Father Rafaelle – unaware that this is the identity Alvaro assumed when he sought sanctuary in the monastery. Carlo arrives, still seeking to avenge his family's honour, and when Alvaro appears, he demands satisfaction. At first Alvaro seeks to make peace, but when Carlo taunts him, he eventually accepts the challenge and the pair rush off to fight.
Scene 2.
Still living as a hermit, Leonora affirms her love for Alvaro and seeks God's forgiveness. Her prayers are disturbed by the sound of fighting nearby. Alvaro rushes in and begs the holy man to give absolution to one who is dying. As Leonora summons the Father Superior, she and Alvaro recognise one another. He takes her to Carlo, her brother. Even as he dies, Carlo cannot forgive Leonora. Leonora kills herself, leaving Alvaro in despair.
- With thanks to English National Opera