Main content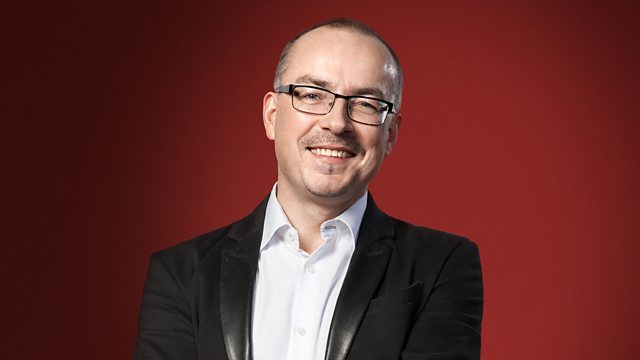 Building a Library: Poulenc: Organ Concerto
With Andrew McGregor. Including Building a Library: Poulenc: Organ Concerto; Re-issue: song recitals by German soprano Elisabeth Schwarzkopf; Disc of the Week.
with Andrew McGregor
0930
Building a Library: Oliver Condy recommends a version of Poulenc's Organ Concerto. In 1936 Poulenc made a pilgrimage to the Black Virgin of Rocamadour, where his Christian faith was reignited. And there is a feeling of anxious spiritual questioning in this concerto. But Poulenc also contrasts the religious mood with the more jovial Poulenc of the cabaret and the fairground.
1030
Iain Burnside and Andrew discuss a reissue of song recitals by the great German soprano Elisabeth Schwarzkopf who was born 100 years ago.
1140
Andrew plays an exiting new release as his Disc of the Week.
9.00am
Tchaikovsky: Violin Concerto & Stravinsky: Les Noces
STRAVINSKY: Les Noces
TCHAIKOVSKY: Violin Concerto in D major Op. 35
Patricia Kopatchinskaja (violin), Teodor Currentzis (conductor)
SONY 88875165122 (CD)
Brahms & Bartok: Violin Concertos
BARTOK: Violin Concerto No. 1, BB48a, Sz 36
BRAHMS: Violin Concerto in D major Op. 77
Janine Jansen (violin), London Symphony Orchestra, Orchestra dell'Accademia Nazionale di Santa Cecilia, Antonio Pappano (conductor)
DECCA 4788412 (CD)
Mozart, Weber & Widmann: Klarinettenkonzert
MOZART: Concerto for Clarinet and Orchestra in A major K. 622
WIDMANN: Drei Schattentänze
WEBER: Concerto for Clarinet and Orchestra No.1 in F minor Op. 73
Jörg Widmann (clarinet), DSO Berlin, Peter Ruzicka (conductor)
ORFEO C897151A (CD)
9.30am Building a Library
Oliver Condy compares recordings of Poulenc's Organ Concerto and makes a personal recommendation.
Top recommendation:
Respighi, Poulenc & Rheinberger: Concertos for Organ and Orchestra
POULENC: Concerto in G minor for Organ, Strings & Timpani
RESPIGHI: Suite in G for Strings and Organ
RHEINBERGER: Organ Concerto No. 1 in F Op. 137
Peter King (Bath Abbey Organ), The BBC National Orchestra of Wales, Francois-Xavier Roth (conductor)
REGENT REGCD257 (CD)
10.20am New Chamber Releases
Harmonie & Turcherie
DONIZETTI: Marcia di Mahmoud; Sinfonia a soli instrumenti di fiato in G minor
HAYDN: The Seven Last Words of Our Saviour on the Cross: Introduction in D major
HAYDN, M: Marcia Turchesa
MENDELSSOHN: A Midsummer Night's Dream: Nocturne
MOZART: March of the Janitscharen (from Die Entfuhrung aus dem Serail)
ROSSINI: Il Turco in Italia Overture
SCHUBERT: Eine kleine Trauermusik, D79
SPOHR: Notturno for winds & Turkish band in C major Op. 34
WITT, FRIEDRICH: Concertino in E flat major
Zefiro, Alfredo Bernardini (conductor)
ARCANA A391 (CD)
Bacewicz: Complete String Quartets, Vol. 2
BACEWICZ: String Quartet No. 2; String Quartet No. 4; String Quartet No. 5
Lutoslawski Quartet
NAXOS 8572807 (CD budget)
Alisa Weilerstein: Chopin & Rachmaninov
CHOPIN: Cello Sonata in G minor Op. 65; Etude Op. 25 No. 7 in C sharp minor; Polonaise brillante Op. 3 for cello & piano
RACHMANINOV: Cello Sonata in G minor Op. 19; Vocalise Op. 34 No. 14
Alisa Weilerstein (cello), Inon Barnatan (piano)
DECCA 4788416 (CD)
10.40am Iain Burnside on Warner's Elisabeth Schwarzkopf centenary set
Pianist Iain Burnside joins Andrew to discuss a box of Elisabeth Schwarzkopf recordings, recently released by Warner to celebrate the 100th anniversary of her birth this month.
Elisabeth Schwarzkopf - The Complete Recitals 1952-1974
Elisabeth Schwarzkopf (soprano)
WARNER CLASSICS 2564602605 (31CD budget)
For more information see: http://www.warnerclassics.com/release/2229,0825646026050/elisabeth-schwarzkopf-the-recitals
11.45am Disc of the Week
MAHLER: Symphony No. 4
Dorothea Roschmann (soprano), Royal Concertgebouw Orchestra, Mariss Jansons (conductor)
RCO LIVE RCO15004 (Hybrid SACD)