Main content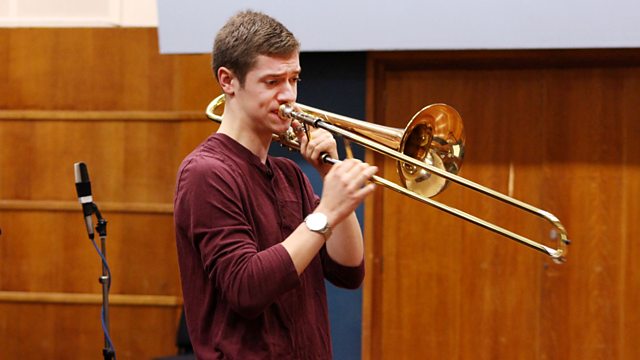 Olena Tokar, Peter Moore, Beatrice Rana, Danish String Quartet
BBC New Generation Artists perform, including 20-year-old trombonist Peter Moore and 22-year-old Italian pianist Beatrice Rana, who plays Chopin's Funeral March sonata.
Clemency Burton-Hill celebrates the music making of the BBC New Generation Artists. Today's programme features two of the youngest members on the current programme; nineteen-year-old trombonist Peter Moore, who last year became the youngest ever member of the London Symphony Orchestra, and the Italian pianist Beatrice Rana who, at 22 years of age has already appeared with some of the world's leading orchestras. She's heard today in Chopin's famous 'Funeral March' sonata.
Kreutzer: Das Muhlrad
Olena Tokar (soprano), Alec Frank-Gemmill (horn)
Jongen: Aria and Polonaise
Peter Moore (trombone), Jonathan Ware (piano)
Chopin: Piano Sonata No. 2 In B flat minor, Op. 35
Beatrice Rana (piano)
Carl Nielsen arr. Rune Tonsgaard Sørensen: Bohemian-Danish folktune
The Danish Quartet
Scriabin: Romance for horn and piano [1890], arr. for cello and piano
Narek Hakhnazaryan (cello), Marianna Shirinyan (piano)
Michael Head: Star Candles; Slumber song of the Madonna
Kitty Whately (mezzo soprano), Gamal Khamis (piano).