Main content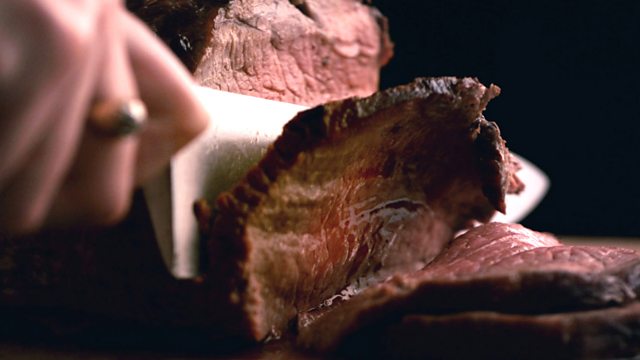 A Meaty Problem
Henry Dimbleby unravels the deep-seated attachment of the British to eating meat.
Restaurateur Henry Dimbleby unravels the deep-seated attachment of the British to eating meat.
Henry wants to cut down on his meat consumption. Many scientists and policy makers think this is a good idea - for global food sustainability, climate change and health. In an effort to understand why he is finding it so difficult, he unpicks the cultural history of the British and their relationship to eating meat.
We join Henry as he hosts a vegetarian Sunday lunch for his family, without his beloved joint of meat. He speaks to cultural historian Ben Rogers, author of Beef and Liberty, and learns that the British have long been identified with their beef consumption - propaganda which sets them above the French during the 18th century wars, the fashionably obese John Bull character portrayed in start contrast to the weak and feeble Frenchman existing on a diet of gruel and snails.
Dr Annie Gray recalls the popularity of the ditty O the Roast Beef Of Old England, sung spontaneously by audiences in the playhouses of 18th century England.
With meat eating such a strong part of our cultural identity, Henry asks how we might go about re-programming ourselves so that we can reduce our intake? Like it or not, meat-eating is still very much associated with masculinity and psychotherapist Susie Orbach suggests reasons why men find it more difficult to reduce meat-eating than women.
Henry speaks to Professor of Food Policy at City University London, Tim Lang about whether personal choice can be enough, or whether governmental policy, taxes or rations are needed to change eating habits and prevent a global food crisis.
Produced by Victoria Shepherd
A Somethin' Else Production for BBC Radio 4.