Main content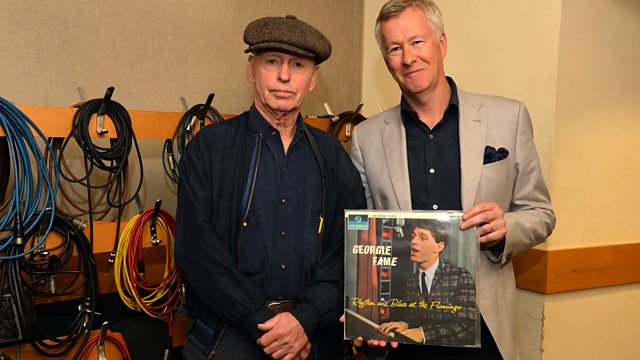 Georgie Fame (the A-Side)
Georgie Fame talks and plays his way back to 1963 and his debut album, Rhythm & Blues at the Flamingo.
John Wilson returns with a new series of Mastertapes, in which he talks to leading artists about the album that made them or changed them. Future programmes in the series include Donovan discussing 'Sunshine Superman', Steel Pulse returning to 'Handsworth Revolution' and Squeeze talking about 'East Side Story'
Series 5, Programme 1, A-side. 'Rhythm & Blues At The Flamingo' with Georgie Fame
At the age of 16, former apprentice cotton weaver, Clive Powell, successfully auditioned for pop impresario Larry Parnes who then forced him to change his name to Georgie Fame.
After touring alongside Marty Wilde, Joe Brown, Gene Vincent and Eddie Cochran, Georgie played the piano in Billy Fury's backing band, the Blue Flames. By March 1962 it was Georgie Fame and the Blue Flames who began a three year residency at the Flamingo Club in London's Soho.
Including tracks like 'Night Train', 'Work Song', 'Baby, Please Don't Go' and 'Do The Dog', 'Rhythm And Blues at the Flamingo' captured the vibrancy and excitement of the famous and notorious club which played a significant part in the breakdown of racial prejudice in post-war British society.
Here Georgie Fame talks candidly with John Wilson about the album that started it all and, together with some of the original Blue Flames (including guitarist Colin Green, saxophonist Mick Eve and trumpeter Eddie 'Tan Tan' Thornton) as well as his two sons Tristan and James Powell, play exclusive versions of some of the key tracks.
The B-side of the programme, where it's the turn of the audience to ask the questions, can be heard on Tuesday 22nd December at 3.30pm.
Producer: Paul Kobrak.
Clips