Main content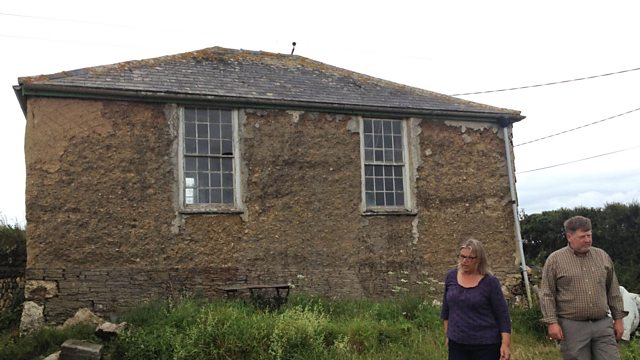 The Disused Chapel on the Cornish Skyline
Petroc Trelawny investigates what has happened to a distinguishing feature of Cornwall, its Methodist chapels, and what this reveals about the changing identity of Cornwall.
Petroc Trelawny investigates what has happened to a distinguishing feature of Cornwall, its chapels.
Petroc grew up in St Martin, on the Lizard, and went to Sunday school at the Methodist chapel. Producer Julian May lived in Carnon Downs, near Truro. He sometimes went to Quenchwell Chapel. Cornish life revolved round chapels: as well as services and Sunday schools there were 'tea treats', anniversary feasts, concerts and a strong social network.
Clive Buckingham, a Methodist and an architect, takes Petroc to Ponsanooth, a small village with a huge, beautiful, grade II* listed chapel that seats 600. Once workers from the nearby gunpowder works filled its pews. These, like Cornish miners and fishermen were wild people. Then, in the 19th century, came religious revival. Billy Bray, famously dissolute, was 'saved', became a preacher and built chapels with his own hands.
In the 1850's, archivist David Thomas says, there were 1,200 chapels in Cornwall. Fewer than 200 are still used. Today only 20 or so people worship at Ponsanooth. The disused chapel on the Cornish skyline is a familiar sight.
But, Petroc discovers, some find new life. St Martin chapel is now a family home. Quenchwell chapel has been converted, too, and Tipu Choudhury tells Petroc how it became the Cornwall Islamic Community Centre. The chapel on the skyline at Tregona is tiny, made of cob and remote. Petroc meets Andrew Tebbs and Jane Darke, artists who, resisting attempts to turn it into a holiday cottage, are making it an art space, an amenity, as it always was, for locals.
Petroc tells the story of the abandonment and rebirth of Cornwall's chapels. He meets, too, those still worshipping, who think it's not the chapels that need converting, but the people.
Producer: Julian May.
Last on
Broadcast