Main content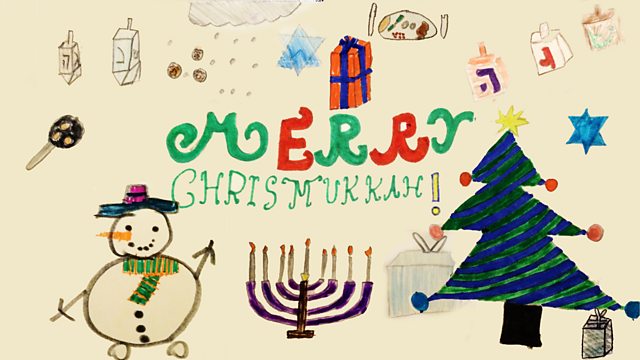 Chrismukkah and Other Cultural Mash-ups
Sharmini Selvarajah explores the 'December dilemma' faced by many interfaith families - including her own.
As the number of inter-faith marriages in Britain increases, we uncover a growing phenomenon - the cultural mash-up. Sharmini Selvarajah meets the families who are getting creative as they combine different religious and cultural traditions to create their own unique festivals.
Embracing multiple festivals has always come naturally to Sharmini. She grew up in a British-Asian family, celebrating Christmas, Diwali and Tamil New Year. Now that she's married to a Jewish American, Passover, Thanksgiving and July 4th also feature.
Every year she throws a Chrismukkah party for family and friends, where latkes sit next to mince pies on the table, and Christmas carols are sung alongside Hanukkah blessings. She's curious about how other mixed families combine their various beliefs and customs.
The Sommers celebrate both Christmas and Hanukkah. Their blue and white Christmas tree is topped by a homemade star of David. Their three sons say the best part of combining Jewish and Christian December traditions is "double the presents - double the fun!"
But their Rabbi, Dr Jonathan Romain, warns that not all interfaith couples are prepared for the challenges of the festive season: "It's a time of year that can be for some families enormously enriching, but for others it's a major trauma. And it brings all issues of mixed faith marriage to the fore, issues they've been able to sweep under the carpet for the rest of the year."
Sharmini spends Easter Monday hunting for chocolate eggs with Amy who's a Christian, her Muslim husband Takbir, and their extended family. But she also hears from those who don't feel so positively about mashing things up. Is there a risk of diluting celebrations by merging them, so that each is inadequately marked? Does it lead to confusion for children growing up in interfaith families?
Producer: Hannah Marshall
A Loftus Media production for BBC Radio 4.