Main content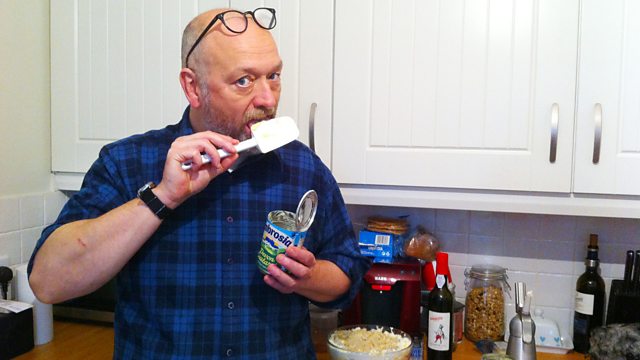 No Mere Trifle
A trifle can be a star centrepiece or a nightmare reminder of 1970s food hell. Tim Hayward investigates the 'golden rules' and the secret underground culture of the 'dirty trifle'.
For some, trifle is an essential part of Christmas - a star centrepiece at the dinner table. For others its a reminder of 70s food hell - soggy sponge, jelly, hundreds and thousands dissolving into custard and cream and possibly crowned with glace cherries. Tim Hayward argues pretty much every food writer of the last 50 years has pronounced on trifle in a massively doctrinaire fashion. He wants to fight the prejudice to delve into the shared secret recipes for quick and 'dirty' trifles and investigates the 'golden rules' to get every trifle doubter on side.
Presented by Tim Hayward.
Produced by Anne-Marie Bullock.
Last on
Black Forest Trifle, by Sarah Lavelle
400g chocolate sponge or shop-bought brownies
50g black cherry or Morello cherry jam
100 g Kirsch
300 g pitted black cherries (in syrup or kirsch)
300 ml double cream
A few fresh cherries, stems attached (optional)
For the chocolate custard:
100 g dark chocolate (at least 70% cocoa solids)
300 ml whole milk
300 ml double cream
1 vanilla pod, split
6 egg yolks
100 g caster sugar
2 tbsp cocoa
1 tbsp cornflour
First make the custard as this will need to chill before you make up the trifle. Melt the chocolate either in a saucepan over a very low heat – this will need constant care and attention if it isn't to separate – or in a heat proof bowl over a saucepan of simmering water. If you are using fresh cherries for decoration, dip them briefly in the chocolate to coat, and leave them on a non stick surface to cool down and set.
While the chocolate is melting, put the milk and cream into a saucepan with the split vanilla pod. Heat slowly until it is just below boiling point, then remove from the heat and allow to cool a little.
Put the egg yolks, sugar, cocoa and cornflour into a bowl. Using a balloon whisk or electric handheld beaters, whisk everything together until the mixture is airy and mousse like.
Pour the milk and cream over the egg mixture and mix to combine, then add the chocolate. Continue to mix until you no pale flecks of mixture remain, then pour into a saucepan.
Cook the custard over a low to medium heat, stirring constantly, until the custard has thickened – you need it to be the texture of thick double cream to get it to the right consistency once it has cooled down. This will take anything between 5 and 15 minutes.
Transfer the custard to a jug and put a layer of cling film over it to prevent a skin forming. Leave to chill.
You are now ready to assemble the trifle. Cut the cake or brownies into 2cm thick slices and sandwich together with the jam. Arrange in the bottom of your trifle bowl, then pour over the Kirsch. Add the cherries, then pour over the custard.
Whisk the double cream until it forms soft peaks and will still pour – just. Smooth this over the custard.
Decorate with grated chocolate or chocolate curls – or the fresh, chocolate dipped cherries if you have them.
The Purist's Trifle, by Catherine Phipps
400 g madeira cake or bought trifle sponges
50 g apricot, raspberry or quince jam
200g homemade ratafia or amaretto biscuits or bought equivalent
150 ml sherry – we like Oloroso
50 ml brandy (or another 50ml sherry)
1 portion of custard OR a 500ml pot of fresh custard, chilled
300 ml double cream
50g flaked almonds
If using the madeira cake, cut into 2cm slices and sandwich with the jam. Arrange over the base of your trifle bowl. Pour over half the sherry and brandy if using, then add the biscuits. Pour over the rest of the alcohol.
Pour the custard over the cake and biscuits. Whisk the cream into soft peaks – no more or it will be harder to spread evenly, then spoon this over the custard, levelling it out with a spatula if necessary.
Put the flaked almonds in a frying pan, then toast on a medium heat for a couple of minutes, tossing regularly, until lightly golden all over. Do not leave the almonds alone as they will always burn when neglected! Transfer the almonds to a plate to cool, then scatter over the cream.
Chill until you are ready to serve.
Credits
| Role | Contributor |
| --- | --- |
| Presenter | Tim Hayward |
| Producer | Anne-Marie Bullock |
Broadcasts