Main content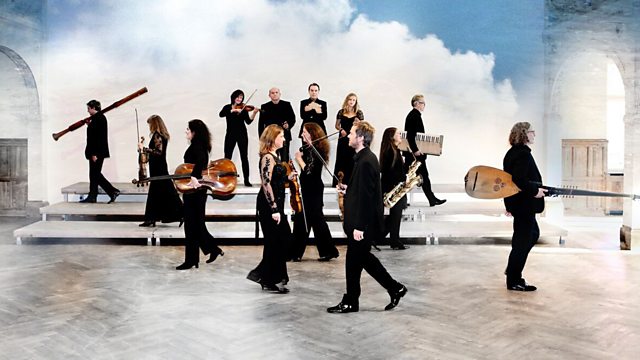 Ian Skelly presents the second part of Radio 3's annual day of Christmas music from around Europe. Including concerts given in Nuremberg, Stuttgart and Prague.
BBC Radio 3 links up with radio stations around Europe for a festive day of Christmas music.
Presented by Ian Skelly
4pm From the German National Museum, Nuremberg
J.S. Bach: Cantatas arranged for instrumental ensemble by Wolfgang Katschner
Sequence 1: Mein gläubiges Herze, frohlocke, sing', scherze
(Aus der Tiefen, sinfonia, BWV 131/1; Verzage nicht, aria, BWV 42/4; Herr, deine Güte, aria, BWV 17/3; Mein gläubiges Herze, aria, BWV 68/2;
Nun verschwinden alle Plagen, aria, BWV 32/5; Sarabande triste, BWV 20/6; Streite, siege, aria, BWV 62/2; Höllische Schlange, aria, BWV 40/4)
Sequence 2: Ich freue mich in dir
(Overture BWV 97/1; Wo gehest du hin, aria, BWV 166/1; Ich will an den Himmel denken, aria, BWV 166/2;
Höchster, was ich habe, ist nur deine Gabe, aria, BWV 39/5; Heil und Segen, concerto, BWV 120/4; Gloria, BWV 191/1;
Sehet in Zufriedenheit tausend helle Wohlfahrtstage, gavotte, BWV 202/9; So schnell ein rauschend Wasser schießt, aria, BWV 26/2;
Ich freue mich in dir, concerto, BWV 133/1)
Lautten Compagney Berlin
Directed by Wolfgang Katschner
5pm From St Michael's Church, Stuttgart
Mendelssohn: Frohlocket, Ihr Völker auf Erden (Rejoice, Ye People of the Earth)
Bruckner: Ave Maria, WAB 6; Os iusti, WAB 30
Jacobus Gallus (1550-1591): Three Motets for men's chorus.
Canite tuba; Natus est nobis; Ante luciferum genitus
Mahler arr. Clytus Gottwald (born 1925): Es sungen drei Engel
Brahms: O Heiland, reiss die Himmel auf, Op. 74/2
Schoenberg: Friede auf Erden, Op.13, a cappella chorus
SWR Vocal Ensemble, Stuttgart
Directed by Florian Helgath
6pm from Studio 1, Czech Radio, Prague
Jakub Jan Ryba (1765-1815) arr. Vojtech Spurný (born 1964): Czech Christmas Mass
Michaela Srumova (soprano)
Markéta Cukrová (mezzo-soprano)
Václav Cižek (tenor)
Jaromír Nosek (bass)
Capella Mariana Vocal Ensemble (directed by Vojyech Semerad)
Prague Radio Symphony Orchestra
Conducted by Vojtech Spurný
(Christmas Around Europe continues at 7.45 pm).