Main content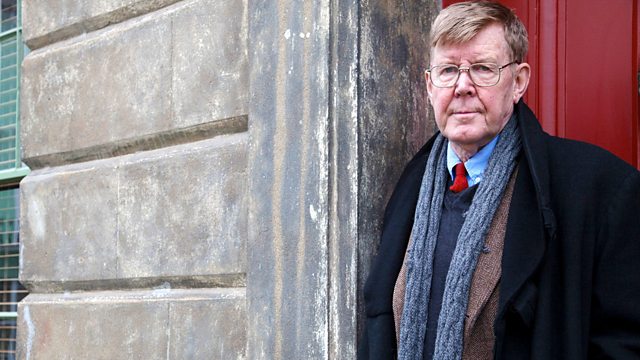 Alan Bennett
Michael Berkeley's guest is playwright, screenwriter and author Alan Bennett. His selections include Ivor Novello, Lehar, Brahms, Bach, Walton, Elgar and Ella Fitzgerald.
Michael Berkeley's guest this week is Alan Bennett. We know him as the much-loved playwright and diarist who's been entertaining and moving us as a writer and performer since Beyond the Fringe in 1960. But there's one aspect of Alan Bennett that's less well-known: the central importance of music in his life, including the extraordinary fact that he once wrote a libretto for William Walton. (Sadly, Lady Walton was not impressed, and shoved it firmly to the bottom of her handbag.)
In a moving and funny programme, Alan Bennett remembers the music that filled his childhood: his father was a gifted violinist, and his aunts played the piano for silent movies. As a teenager, new worlds were opened up by concerts in Leeds Town Hall, where Bennett sat in the cheapest seats behind the musicians, 'like sitting behind the elephants at the circus'. And then came fame, and Hollywood: 'Elizabeth Taylor actually sat on my knee at one point. It was not a pleasant experience'. In a touching conclusion to the programme, Alan Bennett listens to Elgar's Dream of Gerontius and is stirred to think about the boy he used to be, and what that boy might say to him now.
Music choices include a 1939 recording of 'I can give you the starlight' by Ivor Novello; a waltz by Franz Lehar; Brahms's Second Piano Concerto; Bach's St Matthew Passion; Walton's First Symphony; Elgar's Dream of Gerontius; and Ella Fitzgerald singing 'Bewitched, Bothered and Bewildered'. This last song inspired The History Boys when Alan Bennett heard it on Private Passions in 2001.
This special programme includes three bonus tracks available online: Alan Bennett chooses two further pieces of music, and talks about the music he hates and never wants to hear again.
Produced by the Loftus Media Private Passions team (Elizabeth Burke, Jane Greenwood, Oliver Soden and Jon Calver).
Last on
Clips

Music Played
Franz Lehár

Gold and Silver - waltz

Performer: Michael Dittrich. Orchestra: Slovak Radio Symphony Orchestra.

Ivor Novello

I Can Give You The Starlight

Performer: Mary Ellis. Orchestra: Drury Lane Theatre Orchestra. Conductor: Charles Prentice.

Johannes Brahms

Piano Concerto No.2 in B flat major (1st mvt: Allegro non troppo)

Performer: Daniel Barenboim. Orchestra: Philharmonia Orchestra. Conductor: John Barbirolli.

Johann Sebastian Bach

Kommt, ihr Tochter (St Matthew Passion)

Orchestra: Philharmonia Orchestra. Conductor: Otto Klemperer. Choir: Philharmonia Chorus.

William Walton

Symphony no.1 in B flat minor (1st mvt: Allegro assai)

Orchestra: Orchestra of Opera North. Conductor: Paul Daniel.

Richard Rodgers

Bewitched, Bothered and Bewildered

Singer: Ella Fitzgerald.

Edward Elgar

Softly and Gently (The Dream of Gerontius)

Orchestra: Hallé. Singer: Janet Baker.
Broadcasts