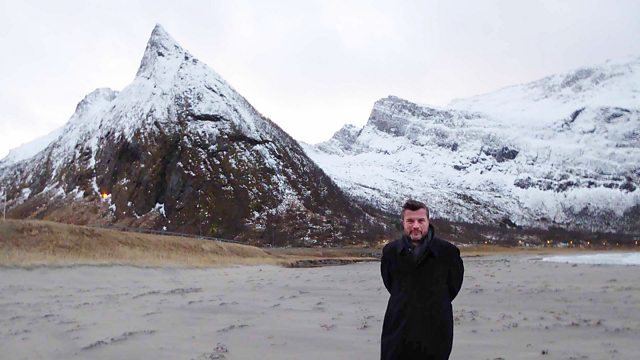 Northern Lights: Tromso
As part of Radio 3's Northern Lights season, Petroc Trelawny explores musical responses to the dark northern winters in Tromso, the Norwegian 'capital of the Arctic'.
Last on
Petroc Trelawny describes how music can relieve the winter gloom in the 'Arctic Capital'.
Northern Lights: Tromsø
As part of Radio 3's Northern Lights season, Music Matters travels to Tromsø, the 'capital of the Arctic', in the far north of Norway. At almost 70º latitude, the region sees 24 hours sunlight in summer and the polar night in winter, when the sun disappears below the horizon and Tromsø becomes one of the best places on earth to see the northern lights. Petroc Trelawny discovers a city's unique musical response to the Arctic's dark winter months, finding music-making to be both therapeutic and creative catalyst in the dark months of the year.
The North Norwegian Opera and Symphony Orchestra (NOSO, or the Arctic Philharmonic) is the world's northernmost professional orchestra. As the orchestra joins up with Tromsø's ballet school for Christmas performances of Delibes' ballet Coppelia, Petroc talks to the conductor Øyvind Bjorå, to the orchestra's programme manager Catharina Bilsbak, and to some of the players, and discovers an organisation which has developed a unique response to its region and communities.
Petroc explores the region's rich folk music heritage, with its traditions from northern Norway and from the Sami people, known for their yoik style of singing. He visits the folk music collection at the Tromsø Museum with curator Ola Graff, meets with Sami singers Ande Somby and Berit Alette Mienna, and sees children at one of the city's primary schools continuing the yoiking tradition.
Tromsø is also well known for its cutting-edge electronic music scene. One of the genre's pioneers is Geir Jenssen, aka Biosphere, who uses the Arctic landscape both as inspiration for his electronic music, and literally, with field recordings including the sound of frozen lakes. He takes Petroc on a journey of sonic discovery around the fjords, tunnels and snow-capped peaks near his home on the island of Senja.
Petroc's journey ends at Tromsø's iconic Arctic Cathedral, with a late-night Christmas concert by one of the city's amateur choirs, Arctic Voices. As the choir perform carols specific to the northern regions of Norway, their director Guttorm Linquist explains the importance of music for people in the dark months of the year.
More information:
Northern Lights on Radio 3
Arctic Philharmonic
Tromsø University Museum
Ande Somby
Biosphere
Tromsø Arctic Cathedral
Arctic Voices
Credits
| Role | Contributor |
| --- | --- |
| Presenter | Petroc Trelawny |
Featured in...
Music, performance and drama, inspired by the world's most northerly territories