Main content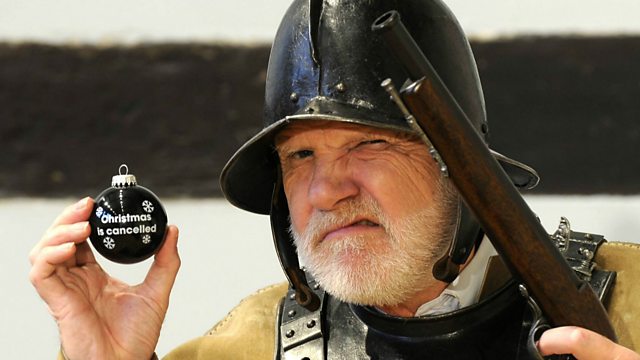 A Puritan's Christmas, Tension in Burundi, Fake apostolic blessings
How Christmas went 'underground' during the British Civil War, fears that Burundi is on the cusp of a civil war, and the Vatican clamps down on fake Apostolic Blessings.
Should the Archbishop of Canterbury 'apologise for the Church's mistake in its response to homosexuality around the world'? That's the call by the Very Revd Prof Martyn Percy, Dean of Christ Church, Oxford who has written an essay on the topic ahead of the next month's meeting of Primates. He debates with Canon Dr Chris Sugden from Anglican Mainstream.
The UN High Commissioner for Human Rights has said Burundi is on the cusp of a civil war. Dr Phil Clark from SOAS looks at the tensions in the country and Tearfund's Country Director Emmanuel Murangira explains how they are responding.
This week police in Rome seized 3,500 fake "Apostolic Blessings." Catholic writer Michael Walsh explains what they are and why they are so coveted.
Bob Walker reports from the National Civil War Centre where they are marking Yuletide by, 'sitting on the fence'. Christmas was a big point of division amongst the sides fighting the British Civil War in the 17th century; mince pies were banned and churches raided to ensure they were not holding services.
On the day of the Spanish General Election we ask if there is a religious vote in this campaign? Alistair Dawber, The Independent's correspondent in Madrid talks to Edward.
Jane Little reports from Charleston, South Carolina where she meets some of the families who publicly forgave the man who shot their loved ones as at a bible study class in June. Has enough been done in the city to tackle racism since the killings?
What was it like to experience Christmas in 1945? 70 years after the end of the Second World War, Henry Muchamore tells us his story of spending Christmas Day with three German Prisoners of War when he was 7 years old.
Producers:
David Cook
Carmel Lonergan
Series Producer:
Amanda Hancox.
Last on
Chapters
Syria Report

Report on Islamist extremists from the Centre on Religion and Geopolitic

Duration: 03:54

Apostolic Blessings

This week Police in Rome have seized 3,500 fake "Apostolic Blessings"

Duration: 03:56

National Civil War Centre

The National Civil War Centre are marking Yuletide by 'sitting on the fence'

Duration: 06:56

Burundi

The UN High Commissioner for Human Rights has said Burundi is on the cusp of a civil war

Duration: 05:40

Charleston

Jane Little meets some of the families who forgave the man who shot their loved ones

Duration: 07:36

Spanish Election

On the day of the Spanish General Election we ask if there is a religious vote?

Duration: 02:07

Church Of England And Sexuality

Should Justin Welby 'apologise for the Church's mistake in its response to homosexuality'?

Duration: 07:02

Broadcast

All the colours of the rainbow