Main content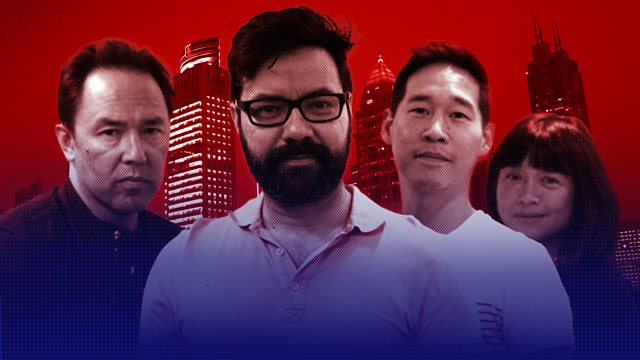 When Red Is Black
Early 1990s Shanghai. Chen cannot turn down a lucrative translation job for a rich developer. But he must also find the murderer of a dissident writer. Crime drama by Qiu Xiaolong.
Inspector Chen: When Red is Black
by Qiu Xiaolong
dramatised by John Harvey
Crime drama set in early 1990s Shanghai. When Chen agrees to do a translation job for a property developer he is given a laptop, a 'little secretary' to provide for his every need, and medical care for his mother. There are, it seems, no strings attached . . . and then the murder of a dissident writer is reported.
Inspector Chen ..... Jamie Zubairi
Detective Yu ..... Dan Li
Peiqin ..... Sarah Lam
Gu ..... Ewen Bailey
Old Liang ..... Gerard McDermott
Party Secretary Li ..... Daniel York
Huang ..... Richard Pepple
Lanlan ..... Tina Chiang
Qiao Ming ..... Chris Pavlo
Peng ..... Debra Baker
White Cloud ..... Elizabeth Chan
Jia ..... George Watkins
Boa Hung ..... Leo Wan
Director: David Hunter
The third dramatisation in the Inspector Chen series, following on from Death of a Red Heroine & A Loyal Character Dancer.
When the murder of a dissident writer is reported Sergeant Yu is forced to take charge of the investigation. The victim, a middle-aged teacher with a dissident past and a book notorious in the West, has been found dead in her tiny room in a converted multi-family house. It is only when Chen, on leave to complete a lucrative translation project gets involved, and the past excavated, that the murderer is eventually found.
Qiu Xiaolong was born in Shanghai, China. As well as writing the award-winning Inspector Chen series of mystery novels, he is also the author of two books of poetry translations, Treasury of Chinese Love Poems (2003) and Evoking T'ang (2007), and his own poetry collection, Lines Around China (2003). Qiu's books have sold over a million copies and have been published in twenty languages. He lives in St. Louis, USA with his wife and daughter.
Credits
| Role | Contributor |
| --- | --- |
| Inspector Chen | Jamie Zubairi |
| Detective Yu | Dan Li |
| Peiqin | Sarah Lam |
| Gu | Ewan Bailey |
| Old Liang | Gerard McDermott |
| Party Secretary Li | Daniel York |
| Huang | Richard Pepple |
| Lanlan | Tina Chiang |
| Qiao Ming | Chris Pavlo |
| Peng | Debra Baker |
| White Cloud | Elizabeth Chan |
| Jia | George Watkins |
| Boa Hung | Leo Wan |
| Author | Qiu Xiaolong |
| Adaptor | John Harvey |
| Director | David Hunter |