Main content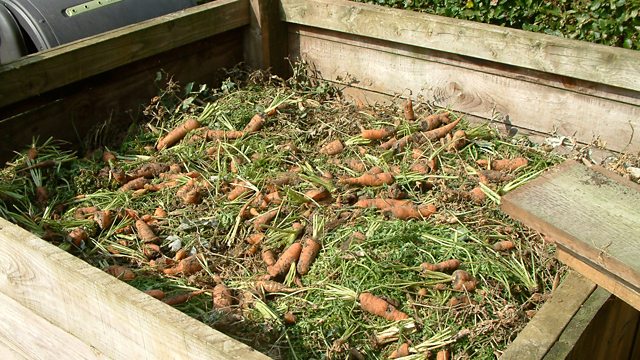 Harpenden
Eric Robson hosts the horticultural panel programme from Harpenden in Hertfordshire. James Wong, Matt Biggs and Anne Swithinbank answer the audience's gardening questions.
Eric Robson hosts the horticultural panel programme from Harpenden in Hertfordshire.
James Wong, Matt Biggs, and Anne Swithinbank answer the audience's gardening questions on misshapen potatoes, unsightly fairy rings and how to contain an unruly Crabapple.
The panellists also offer their topical tips regarding post-flood garden care.
And in the features, RHS Wisley's Matthew Pottage investigates what could be the country's oldest Christmas tree.
Produced by Howard Shannon
Assistant Producer: Hannah Newton
A Somethin' Else production for BBC Radio 4.
Last on
Questions and Answers

Q – We grow 'Pink Fir Apple' potatoes on our allotment – in the past two years, about half of the potatoes have grown into strange shapes with small potatoes growing out of the main one.  It is getting more common with the ones nearest the surface suffering most.  What's causing this?

Anne – I think they're very impressive!  What you could do is break the smaller ones off to make them easier to cook, but there's certainly nothing wrong with them.Matt – These are bred to grow like this – it's a sign of good growth. 


Q – When we take up our Dahlias we are told to turn them upside down so that the sap runs out through the stalks. With so many of us leaving our Dahlias in the ground, thus the sap running back into the plant, why don't the plants rot?

Matt – A lot of the practices follow traditions and often they are over-fussy.  If you're in an area where you don't expect to have a cold winter you can leave them and just make sure the tubers are well protected.Anne – Sometimes I lift them because they can get huge underground! I once left A Dahlia 'David Howard' in for ages and when I did lift it, it was almost unmanageable!James – I don't bother with any of this at all.  It seems like it's a Victorian practice from when they were growing Dahlias for show. No need for it. 


Q – I collect seeds from the best of my chillis, Padrons, peppers, and other non-F1 crops for planting the following year – the quality and quantity I have harvested over the years has definitely improved. Is this due to selective improvements in the strain or other factors such as climate?

James – It can only really be a genetic factor. You'd have to have been picking for an awful long time for climate change to be a factor.  I know of people in the Midlands who have been collecting strains of things such as Amaranthus and they've been doing it for 20 or 30years in coffee tins in their shed. In a comparison with modern varieties, it is astonishing how much more vigorous and well adapted these are just within a couple of decades. 


Q – What can I do to keep our 30-year-old 'John Downie' Crab apple tree under control?  I prune it hard every winter, it has lots of blossom and is increasingly infected with woolly aphid.

Matt – What you have to realise is once you've started pruning in such a way then you have to carry on. Would have been best to leave it in the first place I'm afraid. Anne – Best to thin plants to keep size under control rather than chip chop around the edgeJames – When you start out gardening you need to be careful because you may think you're cutting it back but what you're doing is sparking off an internal cascade of chemicals that turns on the growth hormone of the plant. 


Q – I've got a large Magnolia tree in my garden which, because of the warm weather, has got masses of buds on it – when is the best time to prune it?

Anne – Magnolias don't really like being pruned to be honest – if you've absolutely got to, then do it in the winter. In the spring it'll send up some vigorous new shoots – so you'll need to rub them out before they can really get growing.Matt – Also, use a sharp pruning saw so that you don't snag them.James – The rule for getting the most natural shape with shrubs rather than a hedge is to take out whole branches right from the centre as opposed to tip pruning them. 

Q – How can I get rid of Fairy Rings in the lawn? I don't like the look of them


Anne – Difficult question! It rather depends on the lawn. If the lawn is small you can just wait for them to drop off the edge, as they get wider and wider.  The alternative is to dig them out but you have to go a good foot (30cm) either side and a good spade depth down.  And then re-soil and re-turf. 


Q – Helleborus – I've been advised that one should cut plants right down in the early winter and then give them a good slug of fertiliser. Is this good advice?

Anne – These will be the Lenten Hellebores (Helliborus hybridus) – they tend to open in Feb/March.  I can never bring myself to cut them right back – I tend to take off the damaged leaves and certainly any spotted ones.  I'll do another cut when they're pushing back and they've got some new leaf. There's no right or wrong here.James – They're the perfect plant for a living wall – or planting them in Dicksonia trunks the big tree fern trunks and treating them like an epiphyte – they'll need a bit of help to get them wired on but once they're there and if you live in a damp climate you'll be away!


Topical Tips – Post-flood care

James – The wonderful thing about plants is they are self-generating. The flood might have brought with it lots of nourishing silt to naturally fertilise so you could see big improvements soon.Ann – I think you need to do nothing and see what happens. Make sure it has completely drained and see how the plants recover on their own.Matt – Definitely wear gloves for quite a while afterwards to avoid coming into contact with sewage.  Also, try and let the soil dry afterward so you don't compact it too much.


Q – My husband and I disagree about the content of our compost! I think that a bit of soil acts as an activator; he doesn't. Could the panel mediate?

James – I agree that soil would add the right micro-organisms to the compost that would help break it down.Matt – I wouldn't add soil. I would add some of your previous compost heap.Anne – I don't add soil but it is getting in there on the roots of weeds – so I don't think it's a bad thing.James – What you really need is Oyster Mushroom Spawn and stick that in your compost – lightly mix and water well.  This will devour any carbon-rich material meaning you get a quicker compost and you get a free harvest of fancy mushrooms!

Broadcasts