Main content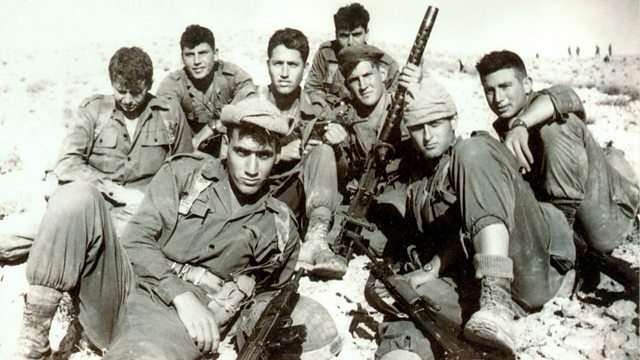 The Six-Day War: Censored Voices
Documentary about a long-withheld piece of oral history - tape-recorded interviews conducted with returning Israeli soldiers after Israel's land gains in the Six-Day War of 1967.
Documentary about a long-withheld piece of oral history - a series of tape-recorded interviews conducted with returning Israeli soldiers after Israel's land gains in the Six-Day War of 1967. Led by the author Amos Oz, a group of kibbutzniks joined together in intimate, taped conversations directly after returning from battlefield.
At the time only a few of these recordings were permitted to gain a public hearing by the Israeli government, but this film reveals them to the public for the first time. The uncensored testimonies suggest that the soldiers were not euphoric about the outcome, but instead were profoundly depressed about what the victory cost.
In this brilliantly-conceived documentary, director Mor Loushy takes the old testimonies recorded by the Israeli soldiers in the immediate aftermath of the war, and plays the recordings back to the now-aged veterans and observes their responses.
Mor Loushy, director of The Six-Day War: Censored Voices, answers the Storyville Q&A
What is more important, story or character?
It depends on the movie. Of course both are important. Clearly Censored Voices is a film in which the story is important and the characters are homorganic and that's a great part of the strength of the film.  

What made you first want to explore the subject?
In all the films I make, I am drawn to understand our history from a new and different point of view, maybe in view of the fact that our present is so complicated. We still live in the midst of the Israeli – Palestinian conflict, and its solution appears nowhere in sight. I am interested in exploring our history from perspectives that have not been shown up to now. In not taking for granted the consensus, but rather in exploring what lies beyond it and in trying to understand the core of our conflict. From the day I learned about the original recordings made by Avraham Shapira and Amos Oz in 1967 straight after that war, the war which practically changed and molded the character of the Israeli society, I knew they contained a real treasure. Authentic voices from 1967 which would truthfully reflect what it was like in the days after that war. Voices that were censored by the army and the Israeli society had no interest in listening to.

Those recordings immediately drew me, and I chased after Avraham Shapira, who held the original tapes at his home, for half a year. I knew I'm not allowed to give up. I knew this was a genuine treasure, which must be revealed and heard in the so very complicated reality of our days.

How long did it take to get the film off the ground?
It took us about 3 years from the moment I had the tapes in my hands.
One year of listening to the tapes and figuring out the story, another year of searching for the visual archives around the world. We searched 30 archives and rescued original material from this war that was buried in dark rooms of archives. Then a further year of editing, writing the music and getting the film onto the screen.

What were you most surprised to learn in the course of production?  
How real and honest the voices were. I was surprised by how accurate their prophecies of the future were. It's scary to think how much they understood about our future from having been in the battlefield and seen the dynamics of occupying civilians, and how much no one wanted to hear their thoughts.

What have been the differences in reception to the film in countries it has now travelled to?
I believe that Censored Voices and the voices of the soldiers carry a universal message. Although it is about The 6 Days War, I think that every viewer can take it to the war in his or her own country, to the psychology of war. I believe that it exposes a chord in the human race that leads us to make wars, to sin, to animal behavior and to silencing all that. And yet, I believe that it also carries a message of peace, a message that says- the price we're paying for war is much too high and we have to look for a different solution. I do feel from screening the film around the world and in Israel that this is the message that people are taking with them.

Of course, Israeli society also understands the film on a deeper level regarding our conflict, but at the end of the day the Israeli audience took the film with that message as well – we've had enough wars, the price that we're paying is much too high.  

Which documentary has most inspired you?
Dear America: Letters Home from Vietnam (1987) about the Vietnam war - a film that is also completed out of audio and visual and also grasps the soul of man at war.

Favourite Website/blog?
I love to read our local independent Israeli news websites like +972. They always bring different voices, with thought-provoking articles and ways of thinking that you won't find in the established papers in Israel.
http://www.972mag.com/

Person you'd most like to interview (living or dead?)
Yitzhak Rabin, our prime minister who was assassinated in 1994. We're working now on a new film that deals with the Oslo Accords, the moment we almost had peace in 1994. I have so many questions to Rabin to which I have no answer. I think that that part of our history (1994) contained such a huge moment of hope which so contrasts our depressing reality today. I believe he holds the key for so many relevant questions that could have affected us today.  

Best piece of filmmaking advice you've ever been given?
To pursue the story, to open your horizons, to choose a topic that really moves you, interests you, challenges you. I was lucky that Avraham Shapira, who held the recordings, believed in me. We became very close and he trusted me with his material, which intrigued me. I knew they were very important for Israeli society to listen to them.

If money was no object, what is your dream documentary subject?
Luckily I'm directing my dream documentaries which are political social docs. I feel that Censored Voices, as well as my next project (which I'm directing with my partner - Daniel Sivan and produced by Hilla Medalia) are films that are trying to change and influence my society. And I always feel that in Docs the reality eventually is so much more than what you imagined or dreamed to make when you started the project.

Favourite film of all time?
The Staircase is definitely a masterpiece.

Most difficult access?
I somehow always search for places that are difficult to get to. The tapes of Censored Voices were hidden for 48 years. It was hard to get them from Avraham Shapira, the editor of the book who initiated the conversations, and then it was hard with the Israeli censorship, but we made it!

Credits
| Role | Contributor |
| --- | --- |
| Director | Mor Loushy |
| Series Editor | Nick Fraser |