Main content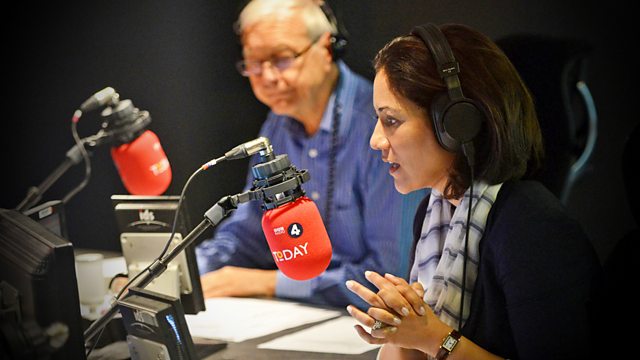 16/12/2015
Morning news and current affairs. Includes Sports Desk, Yesterday in Parliament, Weather and Thought for the Day.
16/12/2015
0635
Scotland's finance secretary, John Swinney, will deliver his annual budget later today. For the first time, he'll have to set a new income tax rate but it's thought he'll choose to keep it the same.  He's also expected to maintain the freeze on Scottish council taxes for a ninth successive year. Our Scotland correspondent Colin Blane joins us.
0640
The Chinese government is hosting what it calls 'the world internet conference' to celebrate the expansions of online activity in the country...but critics say it's an effort to promote a regime of censorship. Our correspondent John Sudworth is in Wuzhen in Zhejiang Province where the conference will be opened by President Xi Jinping.
0710
Dying people should be treated with respect and compassion and doctors should not make "snap" decisions about their care, a watchdog has said. The National Institute for Health and Care Excellence's (NICE) new guidance on caring for people when death is imminent is an attempt to move away from the heavily-criticised Liverpool Care Pathway. The LCP was phased out last year after an expert review found a "tick-box" culture was leading to dying people being put on the pathway without the knowledge of their families. Sam Ahmedzai is professor of palliative medicine at the University of Sheffield and chair of the NICE committee which developed the guidelines in question.
0720
The latest debate in the United States between Republican candidates contesting for their party's nomination for president, has been dominated by discussion about how to defend the country from terror attacks. The debate is the first since the terror attacks in Paris and San Bernadino in California. Ron Nonjean is a Republican commentator and our Washington correspondent James Cook reports live from Las Vegas.
0730
The government is being accused of a U-turn on its pledge of an outright ban on fracking in National Parks and other protected sites. MPs will decide today whether to allow fracking to take place in these areas, a move that would require firms to drill from outside the zones. But campaigners say that could still lead to noise, air and light pollution spilling over into some of Britain's most beautiful countryside. Professor Richard Davies leads the Refine project at Newcastle and Durham universities, which researches the environmental impact of fracking.
0740
Rolls-Royce is announcing significant changes to its management structure. Earlier this week the FT reported that the Government was considering taking the submarine business of Rolls-Royce into public ownership. Shares in the aero-engine maker have almost halved in value in the last six months as the company published a series of warnings about its future profitability. Our business editor Kamal Ahmed reports.
0745
It's been revealed that the Prince of Wales - like the Queen - has been receiving confidential government documents.  This emerged after a successful Freedom of Information request by the campaign group, Republic.  Graham Smith is chief executive officer of Republic and Bernard Jenkin is chairman of the Public Administration and Constitutional Affairs Committee.
0750
Further analysis of palliative care (See 0710) Kayleigh Hollobone's mother died in 2012 and was on the controversial Liverpool Care Pathway. Susan Dewar is a community district nurse and independent member of the NICE committee.
0810
The prime minister reaches an important point in his promised EU renegotiation in Brussels tomorrow when a summit of all the leaders will reveal whether he has made headway in the argument for change that he's been making for months in every European capital. Throughout much of the nineties it was the issue that defined much of the character of John Major's Conservative government and the state of his party, riven by the fundamental disagreements over Europe that had never been healed in the era of Ted Heath and Margaret Thatcher. Sir John Major will join us live on the programme.
0820
More than 900 public schools and 187 charter schools attended by 640,000 students across Los Angeles were sent home yesterday after authorities received what they called a 'credible threat'. Authorities in New York reported receiving the same ``generic'' email and decided quickly it was a hoax. New York Police Commissioner William Bratton called the closure in Los Angeles a ``significant overreaction.''  Steve Moore is a former FBI agent and was head of Al Qaeda investigations in LA after  9/11.   
0830
It's been a year since the Taliban attacked a school in the Pakistani city of Peshawar. They killed more than 150 people. 132 of them were schoolchildren. The school was run by the military and the Taliban said it was revenge for the army's attacks on its strongholds in the northwestern tribal areas of Pakistan. Our Pakistan correspondent Ziauddin Yusufzai is Malala  Yusufzai's father and education activist.
0840
Mariners have long spoken of 'walls of water' appearing from nowhere in the open seas. But oceanographers have generally disregarded such stories and suggested that rogue waves – enormous surface waves that have attained a near-mythical status over the centuries – build up gradually and have relatively narrow crests. New research from the University of Oxford, however, shows that the anecdotal evidence may not be so far from the truth. Professor Thomas Adcock is Oxford's Department of Engineering Science.
 All subject to change