Main content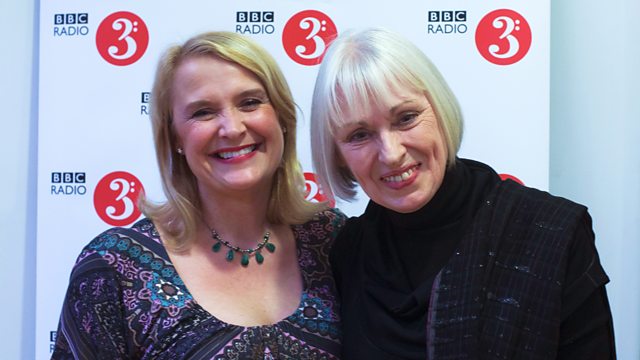 Monday - Sarah Walker with Catherine Martin
With Sarah Walker. Including Five Reasons to Love Scandinavian Strings; Music in Time: Chopin: Impromptu in G flat; CD Review recommendation: Sibelius: Symphony No 1 in E minor.
9am
A selection of music including '5 reasons to love... Scandinavian strings'. Throughout the week, as part of Radio 3's Northern Lights season, Sarah shares music written for strings by Nordic composers including Grieg, Bull, and Larsson, plus there's a chance to hear a traditional tune played on a Norwegian Hardanger fiddle.
9.30am
Take part in today's music-related challenge and identify the place associated with a work.
10am
Sarah's guest is the jeweller and trained classical musician Catherine Martin who, after travelling to Japan, discovered an ancient braiding technique that she spent four years perfecting and went on to use in her jewellery making. Her first piece of jewellery made the permanent collection at the Victoria and Albert Museum and she has since had exhibitions at the American Museum of Art and Design in New York, the National Museums of Scotland and the Worshipful Company of Goldsmiths. Throughout the week Catherine shares a selection of her favourite classical music, talks about physically stepping into Dame Janet Baker's shoes in a production with the English Opera Group and explains why she listens to the Bach Fugues whilst weaving precious metals in her work as a jeweller.
10.30am
Sarah places Music in Time as she goes Romantic, heading back to the 19th century. She draws a parallel between Chopin's Impromptu in G flat major Op.51 and Wordsworth's belief that all good poetry is the spontaneous overflow of powerful feelings.
11am
Sarah features the Building a Library recommendation from last Saturday's CD Review.
Sibelius
Symphony No.1 in E minor, Op.39.
Music Played
5 REASONS TO LOVE...SCANDINAVIAN STRINGS

CATHERINE MARTIN'S CHOICE NO.1

CATHERINE MARTIN'S CHOICE NO.2

CATHERINE MARTIN'S CHOICE NO.3

MUSIC IN TIME: ROMANTIC

THE BUILDING A LIBRARY RECOMMENDATION FROM LAST SATURDAY'S CD REVIEW
Mapping the Music
Answer: Norway
The music played:
Svendsen
Norwegian Rhapsody No.2
Bergen Philharmonic Orchestra
Neeme Järvi (conductor)
CHANDOS