Main content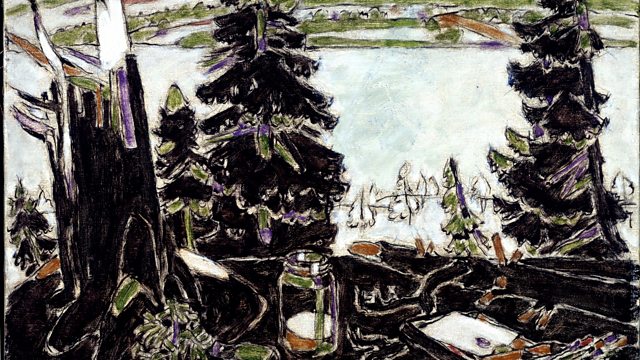 Art in a Cold Climate: Elizabeth Hay on Painting Place III by David Milne
Novelist Elizabeth Hay on how David Milne's Painting Place III addresses the interplay between personality and landscape in Canada.
The Canadian novelist Elizabeth Hay considers the significance of a painting which symbolises much about her country, once famously described having "too much geography". The great achievement of Canadian painter David Milne, says Hay, was to take the impersonal vastness of the nation's landscape, and make it personal.
Milne, who died in 1953, was a modernist painter who lived in a cabin in northern Ontario and eked out a frugal lifestyle while producing paintings "full of immense space and airiness", says Hay. His work, "Painting Place III" was created when he awoke from an afternoon nap in a hollow and saw the landscape framed by spruce trees. It was his management of the scene that made it personal, she observes. "He nestled a painting box, a quart jar, and tubes of paint in the foreground, turning the picture into a self-portrait of sorts, a portrait of someone imbued with a sense of landscape."
Like Milne, Hay's own writing has reflected the immensity of Canada's vast northern landscape. "What we have in common, in differing degrees...is not just a feeling for landscape, but a need for it," she says.
This edition of The Essay is one of a series in which five writers each consider the significance of a work of art to their nation, as part of Radio 3's Northern Lights season.
Producer: Andy Denwood.
More episodes
Previous
You are at the first episode