Main content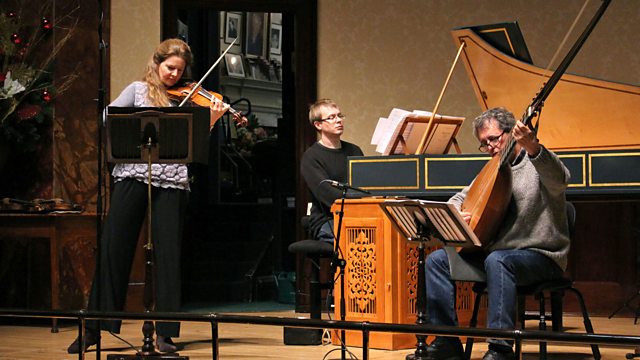 Wigmore Hall Mondays: Rachel Podger, Marcin Swiatkiewicz and David Miller
Live from Wigmore Hall in London, violinist Rachel Podger, theorbist David Miller and harpsichordist Marcin Swiatkiewicz perform a selection of Biber's meditative Rosary Sonatas.
Live from Wigmore Hall, London. The 'Rosary' or 'Mystery' Sonatas by the 17th-century Austrian composer Heinrich Biber are one of the most extraordinary collections in the baroque violin repertoire, a cycle of 15 sonatas reflecting on episodes in the life of Jesus and the Virgin Mary. Six of them, plus the solo Passacaglia which ends the cycle, are performed here by violinist Rachel Podger, theorbist David Miller and keyboard-player Marcin Swiatkiewicz.
Biber: Mystery Sonatas:
No 1 'The Annunciation'; No 2 'The Visitation'; No 3 'The Nativity'; No 9 'Jesus Carries the Cross'; No 10 'The Crucifixion'; No 11 'The Resurrection'; Passacaglia
Rachel Podger (violin)
David Miller (theorbo)
Marcin Swiatkiewicz (harpischord and organ).