Main content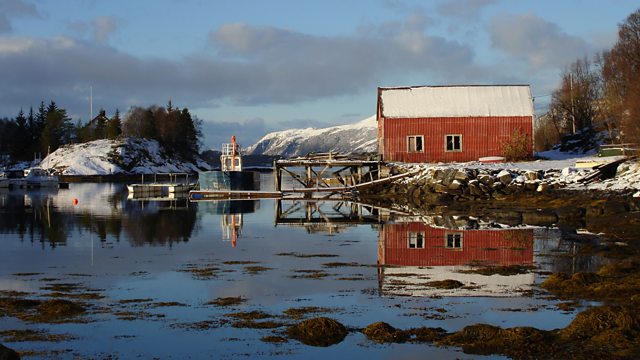 True Norse
Is there a shared culture in the north of Europe? Eleanor Rosamund Barraclough encounters forests, saunas, brutal warfare, ABBA and bad jokes.
They are the happiest, most successful societies in the world. Their schools the envy of every politician; their elegant flat-pack furniture invading every British home. For some in Britain, they are our nearest neighbours. Yet the culture of the Nordic countries is curiously opaque to many Brits, papered over by a generalised sense of Ikea furniture and snowy forests.
So what's really going on up there? Eleanor Rosamund Barraclough takes us behind the elegant, minimal façade, on a journey to the heart of Norse culture.
In Copenhagen she visits the Little Mermaid - a modest tourist attraction - and discovers that behind it lies guilt about the Danes' war-mongering past. In these highly secular countries she finds the Lutheran church living on in Scandinavian design. And with Lars Mytting - wood fanatic - she takes tentative steps into the Taiga, the vast forest which starts in Norway and encircles much of the world; a perfect place to explore the Nordic ideas of nature and solitude.
In Oslo, Asle Toje from the the Norwegian Nobel Institute explains the power struggles which have riven the Nordic countries for centuries. These live on today: the smell of whale-blubber drifts over the Copenhagen docks as Eleanor discusses Greenlandic independence from Denmark with one of its greatest proponents - former Greenland PM Aleqa Hammond. Immigration, the big news story in Sweden and Denmark, is discussed with provocative journalist Mikael Jalving from Jyllands-Posten - the paper which printed the Prophet Muhammad cartoons.
And she talks to the man who, five years ago, was asked to re-brand Finland. Apparently being 'a bit like Sweden' is not enough.
First broadcast December 2015 as part of Radio 3's Northern Lights season.
Presenter: Eleanor Rosamund Barraclough
Producer: Melvin Rickarby.
Featured in...
Music, performance and drama, inspired by the world's most northerly territories