Main content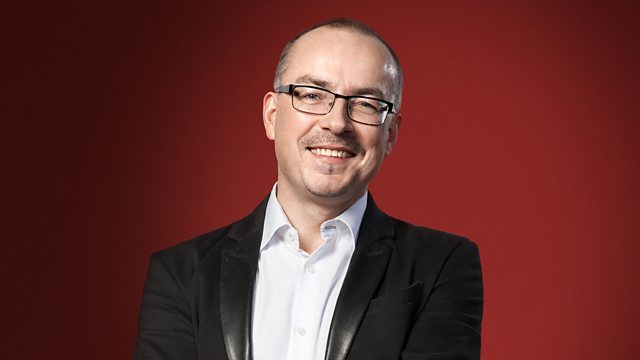 Review of 2015
Andrew McGregor is joined by Helen Wallace, Hannah French and Flora Willson as they discuss the best new releases of 2015. Plus Building a Library: Sibelius: Symphony No 1.
with Andrew McGregor who is joined in the studio by three guests, Helen Wallace, Hannah French and Flora Willson to discuss and debate which new releases they have enjoyed most this year.
0930
Building a Library: as part of Radio 3's Northern Lights Season Gillian Moore recommends a recorded version of Sibelius's 1st Symphony in E minor - possibly the most accessible of his 7 mighty symphonies - a piece that shows flashes of Tchaikovsky and Wagner - but it's also a symphony that displays the distinctive Sibelius voice.
1015
Andrew McGregor and his three guests, Helen Wallace, Hannah French and Flora Willson continue their discussion of their favourite new releases of 2015.
9.00am
Nielsen: Symphonies Nos. 1 & 3
NIELSEN: Symphony No. 1 in G minor Op. 7 (FS16); Symphony No. 3 Op. 27 (FS60) 'Sinfonia espansiva'
Royal Stockholm Philharmonic Orchestra, Sakari Oramo (conductor)
BIS BIS2048 (Hybrid SACD)
VERDI: Aida
Anja Harteros (Aida), Jonas Kaufmann (Radames), Ekaterina Semenchuk (Amneris), Ludovic Tezier (Amonasro), Erwin Schrott (Ramfis), Marco Spotti (Il Re d'Egitto), Paolo Fanale (Un Messaggero), Eleonora Buratto (Sacerdotessa), Coro e Orchestra dell'Accademia di Santa Cecilia, Roma, Antonio Pappano (conductor)
WARNER CLASSICS 2564610663 (3CD budget)
9.30am Building a Library
Gillian Moore compares recordings of Sibelius's Symphony no.1 in E minor and makes a personal recommendation.
Top recommendation:
Sibelius: Complete Symphonies
SIBELIUS: Symphonies Nos. 1-7 (complete); Late Fragments (3)
BBC Philharmonic, John Storgards (conductor)
CHANDOS CHAN10809(3) (3CD)
(Download only for individual symphony.)
10.15am In Memoriam: Rodney Milnes
Andrew pays tribute to the late Rodney Milnes - opera critic and regular contributor to CD Review - who passed away earlier this month.
10.20am More Discs of the Year
Mahan Esfahani: Time Present and Time Past
BACH, C P E: Twelve Variationen uber die Folie d'Espagne, Wq118/9/H263
BACH, J S: Keyboard Concerto No. 1 in D minor, BWV1052
GEMINIANI: Concerto grosso in D minor Op. 6
GORECKI: Concerto for Harpsichord and Strings Op. 40
REICH: Piano Phase
SCARLATTI, A: Variations On 'La Folia'
Mahan Esfahani (harpsichord), Concerto Koln
DG ARCHIV 4794481 (CD)
Schubert: Sonatas, Impromptus & Moments Musicaux
SCHUBERT: Hungarian Melody in B minor D817; Piano Sonata No. 18 in G major, D894; Moments Musicaux (6), D780 Op. 94; Allegretto in C minor, D915; 4 Impromptus, D935; Piano Sonata No. 21 in B flat major, D960
Andras Schiff (fortepiano)
ECM 4811572 (2CD mid-price)
Alessandro Scarlatti: Con eco d'amore
SCARLATTI, A: Figlio! Tiranno! (from La Griselda); Se geloso e il mio core (from Endimione e Cintia); Nacque, col Gran Messia (from Non so qual piu); A questo nuovo affanno (from L'Eraclea); Mentre io godo in dolce oblio (from La Santissima Vergine); Ombre opache; Qui dove … Torbido irato e nero; Con voce festiva; O vane speme! ... Cara tomba del mio diletto (from Il Mitridate Eupatore); Sussurrando il venticello (from Tigrane); Ergiti, Amor, su i vanni (from Scipione nelle Spagne); Esci ommai (from Il Mitridate Eupatore); Dolce stimolo al tuo bel cor (from Il Mitridate Eupatore); D'amor l'accesa face (from Venere, Amore e Ragione); Io non son di quei campioni (from La Statira); A battaglia, pensieri
Elizabeth Watts (soprano), Mark Bennett (trumpet), Huw Daniel (violin), The English Concert, Laurence Cummings (continuo, director)
HARMONIA MUNDI HMU807574 (Hybrid SACD)
LAWES, W: The Royal Consorts Setts 1 -10; 3 Consorts 'To the Organ'
Phantasm, Elizabeth Kenny (theorbo), Daniel Hyde (organ)
LINN CKD470 (2Hybrid SACD mid-price)
BACH, J S: Cello Suites Nos. 1-6, BWV1007-1012
David Watkin (cello)
RESONUS CLASSICS RES10147 (2CD mid-price)
Berg: Lyric Suite
BERG: Lyric Suite - for soprano and string quartet
WELLESZ: Sonnets For Elizabeth Barrett Browning Op. 52
ZEISL: Komm, susser Tod
Renee Fleming (soprano), Emerson String Quartet
DECCA 4788399 (CD)
VIVALDI: L'estro armonico - 12 concerti Op. 3
Rachel Podger (violin, director), Brecon Baroque
CHANNEL CCSSA36515 (2Hybrid SACD mid-price)