Main content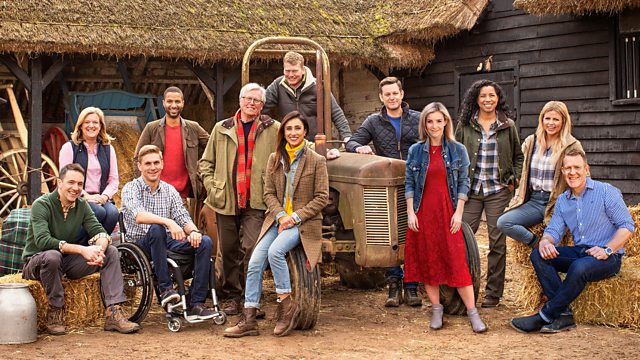 Shropshire
Countryfile is in Shropshire, where John Craven visits a seed bank and Ellie Harrison is on the hunt for the elusive Shropshire pine marten.
Countryfile is in Shropshire, where John Craven visits a seed bank working with the Woodland Trust to help save our endangered native trees. He also explores the farm of the brother and sister building on their father's legacy as a pioneering organic farmer. Ellie Harrison meets urban artist and ornithologist Matt Sewell to discover how to draw birds with chirpy characters. She is also on the hunt for the elusive Shropshire pine marten, thought to be extinct in England. And Adam Henson finds out how painting cattle to make them more visible at night could cut down animal deaths on the road.
Providing enough food for billions of growing farm animals is no easy task - so could insects be the answer? Tom Heap gets an exclusive look at European trials where they are feeding pigs and chickens with maggots.
Tree seed harvest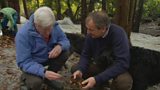 The Woodland Trust is working with a Shropshire seed bank to provide millions of trees to schools and communities to plant across the UK. The threat to British trees from diseases and pests is a continual problem, but it is hoped by planting native trees grown from seed sourced in the UK the risk of importing new diseases will be reduced. John Craven meets Norman Starks from the Woodland Trust to find out why the project is so important. John also helps with the harvest, taking a closer look at the homemade machines used to sort and clean the seed in preparation for planting.  
The Shropshire pine marten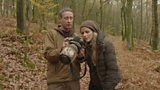 Pine martens were once common in Britain. Now, in England and North Wales, it seems they are on the verge of becoming extinct. But earlier this year a photograph captured by an amateur photographer and verified by the Wildlife Trust caused quite a stir. It is the first conclusive sighting of a pine marten in England in over 100 years. Ellie Harrison joins Stuart Edmunds, chair of the Shropshire mammal group in search of the elusive pine marten that may have been living in the Shropshire hills for years. But will Ellie spot one?
Eating insects?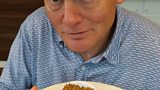 At the moment, soya is the main protein source for farm animals like chickens and pigs. But there's concern that this isn't a sustainable source of food. So what about eating insects instead? Tom Heap has an exclusive first look at European trials where protein-rich maggots are being used to feed livestock. He also reveals the results of a survey that shows how we would feel about eating animals fed on insects.
Glowing animals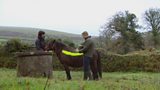 Increasing numbers of livestock are being killed on our country roads and it's a particular problem on Minchinhampton common in Gloucestershire. The cattle are used to help manage the common between May and November and it's during the night that road accidents involving cattle happen. It's also a big problem on Dartmoor, especially with the ponies. Adam Henson finds out about a possible solution that involves using some special fluorescent paint to make the animals more visible in the dark.
Fordhall Farm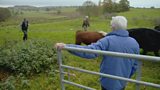 Fordhall Farm is England's first community owned farm. It has more than 8,000 shareholders and has been organic for 65 years. Arthur Hollins was one of the pioneers of organic farming. He took over the tenancy in 1929 at the tender age of 13 and spent a lifetime restoring the soil after intensive food production during the war left the land malnourished. John meets Arthur's children, Ben and Charlotte Hollins, who fought to keep the farm open, continuing the pioneering work their father started.
The birder's Banksy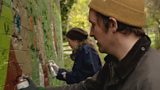 Matt Sewell has been described as the Banksy of the bird world. The artist is probably best known for his wildlife murals painted on walls up and down the country but the urban artist is a country lad at heart - an avid ornithologist who brings to life caricatures of birds with chirpy personalities. Ellie meets Matt at the Hollies Nature Reserve, a popular stop off for migrating winter thrushes such as redwings. While there, Ellie has a go at sketching in Matt's unique style before heading to Shrewsbury to finish spray painting a mural dedicated to Shropshire wildlife.
Credits
| Role | Contributor |
| --- | --- |
| Presenter | John Craven |
| Presenter | Ellie Harrison |
| Presenter | Tom Heap |
| Presenter | Adam Henson |
| Participant | Matt Sewell |
| Executive Producer | William Lyons |
| Series Producer | Joanna Brame |